Graham Reid | | 1 min read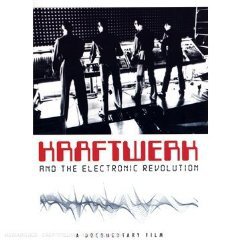 Not only does this excellent overview of the German electronic scene come in at a whopping and thorough three hours, but it also has good timing: it is released just as Kraftwerk make a rare return appearance in New Zealand.
This ambitious (but not officially sanctioned) look at Kraftwerk's place in the techno-cosmos places the group within the greater picture of the German music scene from the post-war period and addresses the difference between musicians in Berlin (serious, arty, political) and those like Kraftwerk from Dusseldorf or Cologne (trendy, fashion-conscious, ironic, wry).
Kraftwerk -- and other groups such as Amon Duul, Ash Ra Tempel, Neu!, Can and Tangerine Dream -- grew out of the experimenal scenes where free jazz mingled with nascent prog-rock. Lengthy jamming and long hair were the only common threads however.
This doco -- which includes many talking head interviews with informative journalists and bemused musicians -- spends a good hour just filling in that background with snippets of period footage and funny anecdotes, before moving the focus on to Kraftwerk and an album-by-album consideration of their career to date.
It doesn't shy away from criticism (groups like Tangerine Dream who moved from experimental music to merely creating wooshing sonic landscapes in a very traditional prog-rock manner). Those who adopted Kraftwerk's template too literally (Gary Numan especially) get a backhander across the kisser but it is interesting to hear from David Ball (Soft Cell), and UK DJ Rusty Egan who adopted the Krautrock/electronic music for his clubland nights . . and thus bringing cool electronica to the New Romantic movement.
Due consideration is given to those excellent German musicians on the margins of rock-consciousness (Cluster, Harmonia, Popol Vuh), and although neither Ralf Hutter nor Florian Schneider from Kraftwerk are interviewed there are intelligent comments from Kraftwerk members Karl Bartos and Klaus Roder, as well as plenty of live and studio footage of the band.
Essential viewing if the German scene is even of only passing interest: you'll be hooked and wanting to find those elusive albums from the early 70s.