Graham Reid | | <1 min read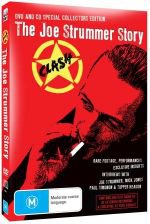 With each passing year the myth and power of Joe Strummer seems to grow as his story has its contradictions and inconveniences ironed out. His wilderness years after the Clash are all but ignored and increasingly it seems as if Strummer moved seamlessly from agit-prop rocker to senior statesman who took his message of tolerance and commitment to the masses around campfires and through the Mescaleros.
The Julien Temple doco The Future is Unwritten is perhaps the most definitive overview so far and this one, in artwork which recalls the Temple film, comes off as a lesser, reheated version through interviews with Mick Jones, Paul Simonon, Topper Headon, Tymon Dogg and others.
There is some interesting live footage (much of it previously seen) and Strummer's voice comes through as a disembodied commentator on his own life and beliefs. But the explanatory captions about some of the songs seem . . . well, slightly suspect.
There is also a tie-in interview disc (also an hour long) which is interesting of itself, but despite the generous packaging (a 32-page bio booklet with photos and suitably revolutionary images) and the undeniably honest sentiments from all concerned, this doesn't dig as deep as it might have. It is a homage rather than an investigation.