Graham Reid | | 1 min read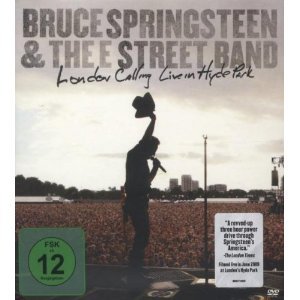 Already a global chart-topper, this double disc DVD not only captures Springsteen and band in concert in June '09, but also acts as an emblem for how much people identify with the man and his songs.
Through his image-heavy, narrative songs delivered with a big band wallop (drummer Max Weinberg looks like he is hanging on for dear life throughout), Springsteen has managed to touch some ineffable, universal chord within audiences (almost exclusively white) across the globe. And the camaraderie the band shows on stage (Steven Van Zandt and The Boss look just glad to be in each other's company) means they come of like the last gang in town for whom music is a spiritual and physical release.
And in that regard reviewers cannot help note that Springsteen -- who is physically front and centre in a thrilling show which runs well past two hours -- is now 60. "Too late to stop now, we can't stop now," he shouts about half way through -- and the best is about to come with Rosalita, Jungleland, Glory Days, and Dancing in the Dark.
As a crowd pleaser it was smart of him to open with the Clash's London Calling (and yes, he does look like a more muscled Joe Strummer) but it is taken at such a breathless and unmediated pace it is far from the best thing here. Pretty awful in fact.
(And Branford Marsalis is right in what he says about Clarence Clemons' sax playing, see here.)
Filmed with superb sharpness and as up-close as you can imagine, this is a concert, no backstage footage, no interviews or bonus featurettes, just a rock show as it happened -- although the bonus tracks of The River and Wrecking Ball were filmed around the same time at Glastonbury and Giants Stadium respectively.
It is a rare artist who can not only sing to an English audience of an imagined America and make them feel some empathy, let alone deiiver Stephen Foster's Hard Time Come Aagin No More.
Whether you got the whole bombast or not, you have to agree that by virtue of his extensive catalogue, the connection with a massive audience, and the sheer pleasure and commitment he talks to a stage Springsteen is a rare artist indeed. And he's 60.