Graham Reid | | <1 min read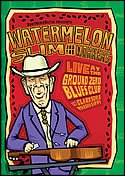 Watermelon Slim has lived quite some dangerous and interesting life (see interview here) and he owns a face which, we might charitably described as "lived in".
In this DVD of him and his band live at Clarksdale's famous Ground Zero blues club, he tells of once waking up in the local hospital with a dislocated jaw and then driving home to Oklahoma with steel pins in his face.
In passing he mentions his time in Vietnam during the war.
If anyone has earned the right to sing the blues - from the sad songs to those about criminal intent and ones with a redemptive quality -- it is Slim.
Regrettably this performance is mostly workmanlike and only a few songs -- notably the slow-buring Devil's Cadillac -- really take you to wherever he is in his head.
He has a good band (yes, you can smoke in Ground Zero, or no one told drummer Michael Newbury otherwise) and he has a few guests who (other than Charlie Musselwhite) might not be familiar (Big George Brock on vocals and harmonica, guitarist Jimbo Matthews).
The special features aren't that special either: the encounter with John Mayall is perfunctory (Slim tells the same hospital story in the same words) but we do get to meet his band The Workers.
A live show, but not one you would ever say "I wish I had been there for that one". The clip below is typical.