Graham Reid | | 3 min read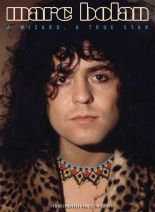 It was hardly surprising that Ringo Starr, then an aspiring film-maker because he had little else to do other than churn out hits, should have made a film of Marc Bolan in 1972.
Bolan was at the peak of his powers with T.Rex and the "T.Rexstacy" of screaming girls drowning out the music and trying to get a lock of Bolan's hair would have been instantly familiar to the former Beatle (who by all accounts moved through the young audience at Bolan's Wenbley show largely unrecognised).
Everyone said that the mayhem which followed T.Rex -- and which Bolan shamelessly courted and encouraged -- hadn't been seen since Beatlemania.
On stage Bolan was the glam-elf rocker powering out short, sharp songs which were big on repetition and odd lyrics. But they were great songs nonetheless: Ride a White Swan, Hot Love, Get It On, Jeepster, Children of the Revolution . . .
In a feather boa and with stars painted on his face, Bolan was determined to be noticed and this hour-long doco -- with contributions from longtime friends Steve Harley and DJ Bob Harris, his girlfriend Gloria Jones and others -- confirms Bolan wanted to be a star at any price, and was determined to make it even when he was a teenage Mark Feld in Wimbledon. ("He had a disturbing sense of self-belief.")
Nothing much is said here of his early life -- he grew up in a Jewish working class family -- but picks up the story when he was briefly in the quasi-Mod band John's Children then caught the wind of change and became a hippie in the acoustic duo Tyrannosaurus Rex singing songs of mad poetry (Tolkien, fairies, elves etc). They delivered an album with the title My Children Were Fair And Had Sky In Their Hair But Now They're Content To Wear Stars on Their Brows.
But as the hippie era faded Bolan plugged in, trimmed the name to T.Rex, dressed up -- and launched glam rock.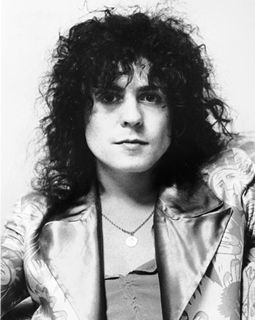 And it was all on from there: he got the stardom he so desperately wanted, flicked out hit singles notable for their economy an catchiness, had one fine album in Electric Warrior (produced by Tony Visconti) but was mostly a singles act, had a television show . . . and got the mania filmed by a former Beatle.
But Bolan, as is clear from the testimony of freinds and those who loved him, also became increasingly difficult. His body ballooned (coke and alcohol) as did his ego. He started to lose his elfin looks and become more like Fat Elvis, but he always believed his fans hadn't deserted him.
Most had -- however a second career almost began with, remarkably, the rise of punks. As Captain Sensible of the Damned says here (they opened for T.Rex on a tour at Bolan's invitation) the punks had been buying singles in the early Seventies so knew T.Rex songs -- and they liked the guy.
For a short while -- cleaned up, losing weight, as determined to succeed as ever -- it almost seemed as if Bolan could come back.
But he was killed in a car accident in September 77, just two weeks short of his 30th birthday.
This doco skirts over too much of his formative years to be fully satisfying. But the friends are honest about Bolan's charm and shortcomings, and there is some decent live footage as well as well as home movie stuff of him pouting and posing for the camera -- and his final day (he went to the dentist and had a few glass of wine with the guy at work!) is done through a quite feasible re-enactment.
The commentary is pretty over the top ("the androgynous elf with the rosebud mouth had become the lurex-clad glitter god pioneer of glam rock, hit followed hit with inevitability of night following day") and some of the photos (especially of David Bowie) are from much later.
And it's news to me that T.Rex were the amalgam of Chuck Berry and Mungo Jerry's "falsetto" hit In the Summertime. Weird, and wrong.
The DVD also comes with an interview disc of Bolan speaking (undated unfortunately, sounds like early '77), and hilariously it opens with him saying he didn't ever want to get lumbered with the glam image.
Odd title too (that's Todd Rundgren) but I guess Ringo had walked off with the obvious one: Born to Boogie.
Marc Bolan was, briefly.