Graham Reid | | 1 min read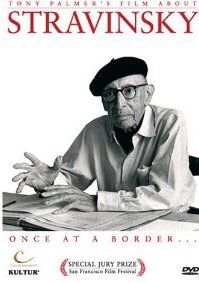 When Tony Palmer made this acclaimed and insightful documentary about Igor Stravinsky on the 100th anniversary of the composer's birth, the great man had been dead less than a decade.
As with the other docos by Palmer previously mentioned at Elsewhere (notably All You Need is Love), the filmmaker was therefore close to the lifetime and influence of his subject, and this being done at the request of the Stravinsky Estate meant he had even more access.
So here, in addition to Stravinsky telling his own story (the focus is on the music and career, less on his very interesting private life with the ladies as you might expect) we have his three children interviewed ("he didn't know how to go to a bank" one says) as well as Nijinkski's daughter and Diaghilev's secretary ("he [Diaghilev] didn't pay").
There is archival footage of those who were part of his life such as Nadia Boulanger ("people look backwards and admire him, but they don't admire him in the time") , Georges Auric and Jean Cocteau, and others (an old ballerina from Les Ballet Russe says "I never realised I was making history" about the Stravinsky/Dhiagilev period in Paris). There is also important footage from the period in St Petersburg and Paris to set the scene.
The Russian historian Kyril Fitzyon offers telling insights into the culture and attitudes in St Peterberg during Stravinsky's formative period there ("part of a much more open world and they travelled much more"), but it is the matching of Stravinsky's recollections with appropriate footage and photographs (from street scenes to opera houses) which drives the narrative.
The breadth comes from filmed orchestral performances of his music, of Stravinsky conducting, and ballet sequences from The Firebird, Petrushka and Les Noces. And some interesting personal insights (the longest he lived anywhere was in Hollywood in the Forties) about that remote but exciting world which these larger than life characters inhabited.
At 166 minutes, this is a remarkable, award-winning portrait of an often controversial, musically restless composer whose aural fingerprint was imposed on the first half of the 20th century and whose influence is still felt today.
Like the sound of this? Then check out this.
AND
The Royal New Zealand Ballet is presenting three short Stravinsky ballets in May and June: St James Theatre, Wellington, 20-22 May; Aotea Centre Auckland, 25-28 May; Municipal Theatre, Napier 31 May-1 June; Civic Theatre, Invercargill, 8-9 June.
For more information see here.