Graham Reid | | 1 min read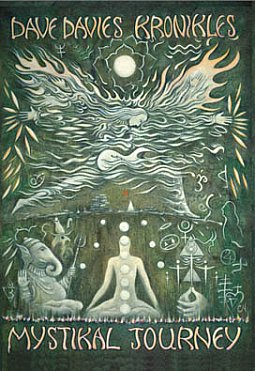 Given that Dave Davies contributed the raw guitar sound to early Kinks hits such as You Really Got Me, grew up in the same household as his famous songwriter brother Ray, was part of the notoriously warring siblings (on stage often, they anticipate Oasis in that regard) and had a solo hit with Death of Clown among many other things -- not to mention the stroke in 2004 followed by further estrangement from Ray -- you'd think there is a fine doco to be made about his journey from Fortis Green to the heights of the Swinging Sixties and beyond.
There probably is, but this isn't it: here with assistance from his son Martin, Dave Davies unveils his constant spiritual quest through the occult, Yeats, Theosophy and Madame Blavatsky, Gurudeva and so on.
Davies is a sincere seeker but many of the interviews with various teachers and spiritualists are, of course, uncritical and there is much nodding in agreement as this flies low over some deep but sometimes questionable ideas.
The accompanying compilation CD -- which opens with a live version of Dave's band playing You Really Got Me -- includes some genuinely affecting songs, notably the reflective Fortis Green in which he recounts childhood memories ("collection bottle tops, thrupenny bits, fishing with my dad") which would stand alongside many of Ray's equally "English" songs. But mostly it errs to this Davies' hard rock tendencies, although a later version of his Dylanesque Death of A Clown is included.
The DVD is for those with a longtime affection for the lesser-known Davies or sympathetic to the many philosophical, quasi-mystical and spiritual ideas thrown out in quick succession.