Graham Reid | | 3 min read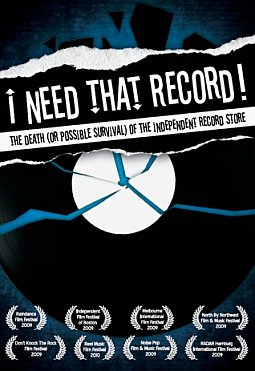 With today being Record Store Day and attention turning to how cheap books and CDs etc are on-line (not to mention downloading), this indie doco about "The Death (or Possible Survival) of the Independent Records Store" across America is an insightful look at the changing times we live in.
The argument here is that indie record shops -- wall to ceiling vinyl, indie CDs, posters and buttons etc -- offer something more than just being a store, they are gathering points for the tribes (or cults), misfits, like minds, collectors and freaks, and those in search of obscurities or kitsch oddities.
There are any number of people here who rail against the corporate music being shoved down our throats, of how record stores have literally saved lives (those who would drift if they hadn't found friendship and an obscure vinyl).
Some of the stats are pretty frightening -- over 3000 indie shops closed in the past few years -- but of course as one owner going out of business observes, "it's only change". And you have to make change work for you.
Owners being forced out note that it is people after their site not their market, but that so many of their customers such have an emotional attachment to the location that a shift is like major trauma.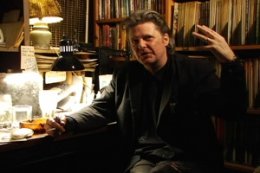 Any number of famous faces (and rather large bellies in some case) like Glenn Branca (left), Chris Franz, Mike Watt, Thurston Moore, Ian MacKaye, Noam Chomsky, photographer Bob Gruen and others line up to bemoan the corporatisation of the record industry with stockholders wanting to see a profit on their investment. ("No such thing as artist development," says Franz).
The rot set in during the Eighties when record companies started firing people who loved music and started employing MBAs, says Legs McNeil. The manufacturing of pop stars lead to the schism between mainstream and indie.
"Art has never been about mass culture," say Branca, which goes unchallenged but is a solid soundbite.
This much is common talk in bars and wherever musicians and music lovers gather -- in record shops? -- and radio must also take much of the blame for the balkanisation of genres. The Clear Channel Network in the States is akin to the Great Satan for its lock on radio and the narrowing of playlists.
Consequently radio listenership is at a 27 year low.
MTV is of course just visual wallpaper, and now just one of many such options out there which have less and less to do with music but more about selling a lifestyle option.
So this 80 minute doco traverses a lot of familiar American ground and gripes while allowing music fans and store owners to have their say and put their case.
And then of course there is a generation, perhaps even two, which has come through which believes music is something you download or file share for nothing -- and artwork is just another optional extra.
Mike Dreese of Newbury Comics however says that some people think that just because they are surrounded by a bunch of old records they feel they are entitled to a living.
The American consumer isn't like that, they want it shrink-wrapped, easily found and cheap. You have to be competitive to stay current, he says, and the idea of having old posters up and reminiscing about the day the Allman Bothers came in and played an acoustic set is "just living in the past. How is that relevant to a 14-year old today who has an iPod that he just rips stuff off the Web onto?"
There might have been more blunt voices like his here -- he's as blunt about the big volume dealers too though -- because the reminiscing people are very well represented and the old days are just that.
The biggest music seller in the US today? Wall-Mart.
But of course there has been some small clawback with people seeking out old vinyl, and many artists now insisting their music comes as a download, CD and on vinyl. And with the price of vinyl slowly falling and coming in to line with the cost of CD, things might not be as bad as they seem.

If you want a vinyl record, you can probably find it.
The sad thing is, increasingly, people are looking for it and buying it on-line -- and not going to a record shop.
Because there are fewer and fewer of them.
Here's why. Unfortunately.
Interested in this? Then check out this. And this.