Graham Reid | | 1 min read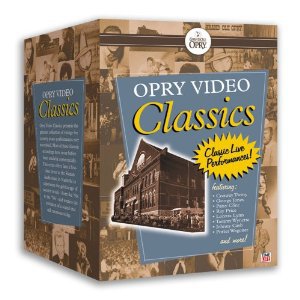 Can you have too much of that old time mainstream country music? Some might say that five discs and 10 hours of country singers at the Grand Ole Opry might just be that bridge too far . . . and to be honest I didn't get more than halfway through this set which draws mostly from the Fifties and Sixties.
It is hilarious of course if you just want to tune in for the downhome humor, awkward pauses, stilted "conversations" ("Would y'all like to sing us a song?") and odd costumes (cowboy boots, huuuuuge skirts on the women). But of course this comes from a time when people weren't as sophisticated or as tutored when it came to television. And in that alone this has some real charm.
Of course everyone is here: Patsy Cline, a young Dolly Parton, sassy and smiling Loretta Lynn, Tammy Wynette (all these and more on the first disc) with Faron Young, Conway Twitty, Porter Wagoner, a skinny Johnny Cash (Five Feet High and Rising, Folsom Prison Blues), Jim Reeves, Ernest Tubb, Ray Price and Mel Tillis (in great sequined jackets), Sonny James, a clean-shaven and clean-cut Waylon Jennings and equally dapper Johnny Paycheck, Charley Pride, the young and groomed Willie Nelson, Jim Reeves, Bobby Bare . . .
And there are classic country songs throughout: Walking the Floor Over You, Heartaches by the Number, Four Walls, Six Days on the Road, Wasted Days and Wasted Nights (Freddie Fender in massive Afro), El Paso, I Can't Stop Loving You (Don Gibson with the Jordanaires), The Tennessee Waltz, He'll Have to Go, Four Walls, Crazy (yes, by Patsy Cline), Ring of Fire, Flowers on the Wall, Coat of Many Colours, Coal Miner's Daughter . . .
Some of this is in black'n'white, some in garish colour. There are bonus interviews.
Regrettably the set doesn't come with a booklet of artists and track listings so you just have to shove the discs in player and get that remote ready to fast forward or pause when you've jes 'bout had your fill of these here songs and pickers.
And I suspect only the hardcore fans would get through even one of these chock full discs in a single sitting.
But if mainstream country music is your thing, or you just want to see what Willie, Waylon and Johny Paycheck looked like before the hair and beards grew then here is your one-stop shop.
And the dresses are something else.
"My God, what is she wearing?" was a pretty common comment round my way.
Like the sound of this? Then check out this.