Graham Reid | | 1 min read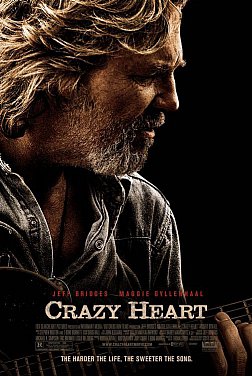 As in rock'n'roll, country music has its casualties, like Hank Williams who died at age 29 in the back of his chauffeur-driven Cadillac on the way to a gig.
Others make a longer crawl to the bottom through years of drink, dope, one-night stands in cheap bars where they stagger through versions of their hits with a local pick-up band, then crash in a motel with a pliable and equally pitiable, boozed-up woman.
Bad Blake (Jeff Bridges) is one of those: a man with his life and career in free-fall, who drives from bowling alley to bar in a battered car with a plastic bottle to pee in, and playing to those who remember him from better days.
He's man who had some hits but can't write anymore, is flat broke, and there has been some unspecified falling out with a former friend Tommy Sweet (the pony-tailed Colin Farrell) who now fills stadiums and enjoys the roar of the crowd.
Blake also has an adult son he hasn't seen in decades, a few ruined marriages, an expanding belly and an empty heart.
His is not an uncommon story: the Thomas Cobb novel from which this film comes was based on the life of honky-tonk singer Hank Thompson but the story also refers to the lives of Kris Kristofferson, Merle Haggard and Waylon Jennings. Here director Cooper -- who shot the film in a little over a month on a low budget -- tells it with grim honesty as Blake flounders at the depths of his decline.
However when Blake meets a young journalist (Maggie Gyllenhaal) who tries to find the man behind the fog of booze and evasiveness, they inch their way towards each other -- he enjoying the company of her young son -- yet even here Blake screws up.
But out of that failure he seeks help, confides in a wise old barman buddy (Robert Duvall as Duvall) and makes his peace with Sweet by delivering a moving song (The Weary Kind written by T Bone Burnett and alt.country singer Ryan Bingham, who appears as a band member) which reflects on the hardships of life.
Some have likened Crazy Heart to The Wrestler with more interesting songs, and there are similarities in an abusive life-style which really has no style at all.
And as with Mickey Rourke in The Wrestler, Bridges delivers one of the best performances of his long career -- and looks alarmingly like Kristofferson at his most damaged.
Although the ending offers more redemption than needed, the film is carried by Bridges' unglamorous and award-winning performance.
He also sings convincingly as Blake, notably the telling lines "I used to be somebody, now I'm somebody else".
By the end he is perhaps on his way to being that "somebody" again, but Crazy Heart is about a journey that starts at rock bottom.