Graham Reid | | 3 min read

The famous British DJ Jimmy Savile wore a suit made of bananas when he was hosting a television show. Copying Lady Gaga's notorious "meat dress"?
Not at all. Savile -- now Sir Jimmy -- wore his eye-catching clobber on Top of the Pops back in the Seventies.
Visually striking and an icon she may be, but you certainly couldn't accuse Lady Gaga of originality. Her music is a meltdown of Madonna, vacuous dance pop and those she grew up influenced by (notably Britney Spears and New Kids on the Block for whom she has written).
And her visual style is ripped from the pages of Vogue and Taschen books, the art of Salvador Dali and the Bauhaus, and a litany of pop figures such as Bowie, Alice Cooper, Marilyn Manson, Missing Persons and Queen. And burlesque.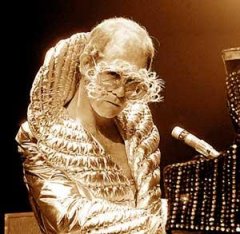 But has anyone in pop ever dressed so outrageously?
Hmmm. Let's think .....................
In this somewhat facile but passingly interesting doco-cum-hagiography we are breathlessly told in the first mangled pronouncement that "she has sold millions of records, performed to myriads of people . . ."
She is "the Queen of the downloads" and is the first artist to have had one billion on-line views.
What is also interesting however is what one commentator says -- and there are a few but none are identified until the credits, although Michael Bolton and Ozzy Osbourne are recognisable. The English pundit says at separate times that Lady Gaga "is not the greatest pianist", "is not the greatest vocalist" and "is not the most conventionally attractive" performer out there.
So how did this modest talent and child of a wealthy family (who went to the same Catholic school as Paris Hilton), overcome these obstacles to become one of the most recognised people on the planet, if far from the most talented in pop.
Simple. Ambition of Madonna-like dimensions and hard work.
Say what you wll about her music -- and is Alejandro the most inane song in the past decade? -- but you cannot deny she lives her role fully and performs about three times as often as most artists you can name.
She also places herself in the public debate cleverly. She supports "controversial causes" like Aids awareness and gay rights (which are hardly controversial at all, controversy would be not supporting those issues) and cleverly says little of any consequence other than to flatter her fans. (They possess "a certain quality" she offers here while saying she wants to protect them).
This is the Michael Jackson school of social conscience: paint broad-brush widescreen messages.
As she admits, although others say this for her in this hour-long lightweight overview, image has been everything in her success.
"My goal has never been to be famous," she says, "the goal was always to be a star."
Mission acomplished.
As with the similarly conceived doco on Justin Bieber, this relies on short snaps of footage which get multiple repeats, very little actual music (let alone any analysis of it) and some talking heads who tell us what Lady Gaga was thinking when she made this or that career move.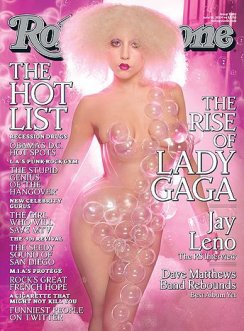 Her music may lack emotional depth and resonance . . . but she is a pop artist and those things were never the goal either.
Lady Gaga is a performance artist and no one would envy her that role. It is a 24 hour a day job (no, she never slouches around in jeans and t-shirt at home she says, and you believe her) and it must take hours in make-up.
As with Madonna, she recognised very early that courting "controversy" -- is she a hermaphrodite? -- is the way to get the headlines and keep your name out there.
And as you can see from the crew of photographers who follow her around, she appeals not just to her fans ("little monsters") but to the middle-aged male snappers working for the tabloids.
She is good copy . . . and if you analyze who she has borrowed from (and this DVD doesn't) she is also a good copyist. So good she became an original.
That is her true talent, maybe even her genius.