Graham Reid | | 2 min read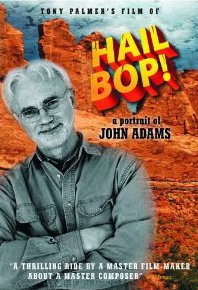 Early in this insightful 100 minute portrait of the American composer John Adams by Tony Palmer, Adams cites Milton Babbitt's article Who Cares If You Listen? and being struck by the cavalier attitude of many composers who knew they had no audience and had created a mindset which "basically said 'Screw you'."
"I remember Babbitt saying he would no sooner expect the average listener to understand his music than he would this person to understand a paper by a nuclear scientist.
"And that struck me as very arrogant attitude."
He quietly says many late 20th composers who wrote self-referential, complex music have abnegated their place in culture and their music does not have the cultural influence that composers in the 19th and 18th century had.

Despite the music's availability it hasn't made an impact because it is inaccessible.
"The isue of accessibility gets them really hot and bothered. It's a fighting words for many composers and many critics. It's a word that's leveled at me as a devesating criticism, 'Oh Adams' he's accessible'," he laughs.
Well, not exactly.
Certainly his piano and symphonic pieces are not exactly in the realm of difficult listening (although they are a challenge) but his expansive operas Nixon in China in '87 and The Death of Klinghoffer four years later made considerable demands on the listener, and the latter particularly has been a lightning rod for political, social and musical controversy.
As Alex Ross observes in The Rest is Noise, "Adams is a child of the twentieth century in all its manifestations. He came of age in the swinging Sixties, but his childhood had something anachromnistic, almost nineteenth century, about it".
Here Adams speaks about the natural environment of his New Hampshire childhood, how the family never had a television set, how there was no division between highbrow and lowbrow art in the household so he was immersed in big band jazz, Broadway musicals and American pop and rock as much the classical tradition and, amusingly, how his first performed composition at age 14 was to a group of 500 mentally disturbed people, "who loved it".
Benny Goodman was a totemic figure -- because he played jazz but also classical -- and cites Ellington as his biggest influence.
Slight, bookish, wry but clear and determined, Adams is one of the few classical composers who can make an aside about Courtney Love to an electric guitarist -- performing his I Was Looking at the Ceiling And Then I Saw The Sky -- and you know he's aware of her music.
He speaks of a post-stylism where contemporary music can refer to and draw from myriad sources and ideas, and the staging of his operas snatches images from news headlines.
Adams grew out of his numerous influences -- the "wonderful pop music of the [Sixties]" and the minimalism which he initially embraced (heard here in his heroic, industrial strength '85 symphonic piece Harmonielehre) into a composer whose bravura is expansive but pays attention to detail, and

Palmer stages settings of some of Adams' work with glistening romanticism (notably his '88 musical setting of Walt Whitman's The Wound Dresser), draws dramatic and lengthy footage from the operas, and lets those who know the composer best speak of his particular genius.
Interestingly Adams, who seems remarkably free of self-flagellation and anxiety, says he is mistrustful of "inspiration" and that the word troubles him. Waiting for inspiration, he learned, was a dangerous activity.
"I think a creative person is very much like an athlete and when you are in shape and doing it every day, ideas are not a big issue. They tend to come, I won't say effortlessly, but they tend to arrive when they are needed.
"I am a real blue collar worker when it comes to being a composer. I try to work the same hours every day, I try to keep a strict schedule, work five, sometimes six, days a week and I work in the morning and afternoon and I never work at night."
And throughout those diverse compositions -- often accompanied by striking and appropriate footage -- rather than the comment speak for themselves.
And, while some of Adams' music is demanding but commanding, you cannot help but be drawn into his world . . . because it is also our world.
Like the sound of this? Then check out this.