Graham Reid | | 2 min read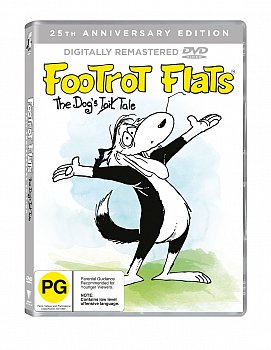 As I write, there is a steady drizzle and high wind so you can guess the season. Yes, it's the "summer" of 2011/2012 in New Zealand where, ironically, every part of the country aside from the bit closest to Antarctica has been suffering constant rain and wind.
Wasn't like this in the old days. In fact, not much was . . . as the digital remaster of this sentimental Kiwi favourite proves.
This was the film which gave Dave Dobbyn two big hits from the soundtrack, the excellent and soulful Shouldn't You Ought Be in Love and the catchy Slice of Heaven (with Herbs) and was embraced by Kiwi and Australian audiences.
Based on Murray Ball's much loved cartoon strip of the same name, the film drew big laughs and box office on release.
But looked at today -- a welcome diversion as the rain comes down -- it doesn't resonate quite as much and its rather plodding pace at the start is guaranteed to have the young 'uns shifting restlessly. Unlike recent animated features (Happy Feet, Shrek et al), Footrot Flats; A Dog's Tale isn't for the kids.
Whether it is for 21st century adults in cosmopolitan New Zealand is also debatable.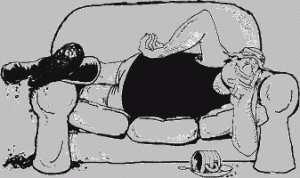 As with the Topp Twins, Murray Ball locates his humour in rural life of the kind that seems rooted in the non-threatening Fifties (rugby before professionalism, small town Kiwiland, going to the pick-chers, a cup of tea and a Gingernut) and therefore relies on some nostalgia.
But that presumes its audience has something to be nostalgic about . . . and is one which enjoys humour that plays off stereotypes.
The central character Wal (voiced by John Clark) comes to us straight from John Mulgan's Man Alone via Barry Crump's Sam Cash as the disheveled rural bloke who largely prefers his run-down, animal infested property than to admit to anything by way of sophistication (he takes the girl to the pie cart on a date). The love interest therefore seems strained, and a sustained plot line a cartoon series in newspapers would not trouble itself with.

And the inner monologue from Dog (Peter Rowley) feels slow and strained, and of course suffers in the comparison with Snoopy in Charlie Brown not to mention Brian in Family Guy. If these seem unfair comparisons, unfortunately they are relevant to modern adult viewers who would have them as their reference points.
The disjunction between Clark's voicing of Wal and Dobbyn's vocals when Wal sings is absurd.
The animation (backgrounds by Richard Zaloudek, animation director Robbert Smit) is uniformly excellent however and the digital enhancement really brings the images to life. They alone are almost worth the price of admission.
But, let down by laborious pacing, nostalgia and a plot which relies on the inclusion of songs and some terrific artwork to drive it (nothing of consequence happens for the first 40 minutes other than sketching in characters and plots ), Footrot Flats doesn't really provide the distraction or enjoyment required on yet another rainy day in summer.
As a cultural landmark it is interesting, but time has rendered it as something to be nostalgic about itself.
I wonder how Terry and the Gunrunners with its mix of animation and film stacks up?
That I'd really love to see again.
Like the idea of animation? Then check out this.