Graham Reid | | <1 min read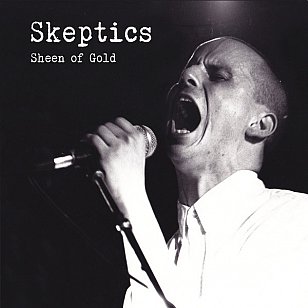 When this film -- Simon Ogston's stylish, thorough and often moving documentary about New Zealand's Skeptics -- appeared briefly in cinemas many years ago it vindicated longtime Skeptic fans who, rightly, believed them to be one of the most important bands ever to emerge in New Zealand.
Uncompromising, intelligent, visceral and often compellingly thrilling, the Skeptics existed in a context of their own making . . . which was Palmerston North, back in the early Eighties a real backwater and hardly the hub of post-punk rock.
What was surprising about Ogston's doco was just how much early footage and many photos there were of the band (and recorded material on cassette) which took the audience back to the inception of the band . . . which was Ross Intermediate School's hall where they used to rehearse.
Anyone familiar with the Skeptics' story knows it comes to a tragic halt and that seems even more moving in retrospect when you see how intimidating, focused and committed singer David D'Ath was.
In all the wrong ways he became our Ian Curtis for some.
Skeptics' music was the perfect foil for his intensity as the soundtrack attests.
So here is an extraordinary doco which has extensive and often amusing interviews with the surviving members, admirers and fellow travellers plus plenty of images and a swathe of unbelievable music.
Available now on NZ on Screen (see here), it also comes bonus footage and some previously unseen live performances.
Skeptics were an important band, this is an important story being told.