Graham Reid | | 1 min read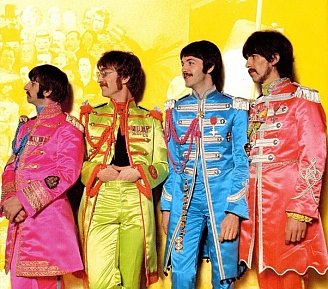 Like millions of others, says classical musician Howard Goodall at the start of this hour-long doco, he was spellbound when hearing the Beatles' Sgt Peppers Lonely Hearts Club Band in June 1967.
Goodall has become the go-to guy for benign Beatle comment these days (he popped up in Ron Howard's Eight Days a Week also) and here he appears again as the smart, articulate and well spoken frontman who has access to previously unheard studio banter and outtakes alongside still photos, interview footage, archival films, videos and so on from the period.
He notes early on the innovation of Pepper (and the preceding single Strawberry Fields Forever/Penny Lane) was that – despite the occasional cliché today that is was all hippie, acid-soaked trippy music -- half the songs were lyrically grounded in the real world (newspaper articles, the meter maid and so on). And that all styles were fair game (music hall, pop, brass bands and so on) in its musical ambition and scope.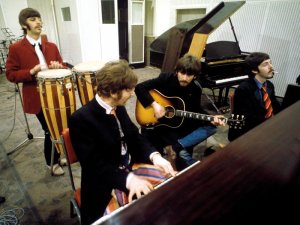 None of this will be new to anyone who has had passing encounters with the album (let alone were there at the time), but Goodall – in the manner of friendly lecturer, "So what I hear you say . . ." who can illustrate ideas on a Mellotron and Little Richards' innovations on piano – offers a gentle guide through the background from the late Fifties and on into the period under consideration, the Abbey Road studio and the songs of '67.
What he does bring to life is just how clever the studio production was, especially given how basic the technology was at the time . . . and how an engineer Ken Townshend developed technology to seamlessly join the different speeds and keys of the two parts of Lennon's Strawberry Fields Forever.
And so on.
It is interesting, sometimes insightful and certainly enjoyable, even if for many tracks some familiar byways.
But if you or someone in your household is in the early teens then it's quite an ear-opener.
Sgt Pepper's Musical Revolution screens on Prime Rocks, Tuesday July 4, 8.30pm
There is a consideration of this album and its 50th anniversary reissue here. And its expensive and influential cover here.