Graham Reid | | 2 min read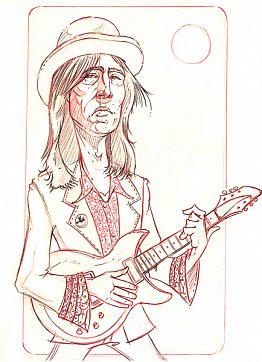 The American actor/director Peter Bogdanovich (The Last Picture Show, Paper Moon etc and Dr Melfi's psychotherapist in The Sopranos) seems an unusual figure to be behind this four-hour doco of the 30-year career of Tom Petty and the Heartbreakers.

Unlike Martin Scorsese who did the similarly-lengthed Dylan doco No Direction Home, Bogdanovich hasn't really shown much interest in the contemporary music scene let alone used it in his movies.

That might explain why this journey through this remarkable career doesn't have the depth and dimension of the Scorsese doco. Where Scorsese placed Dylan's music into the social, political and musical context of its period, Bogdanovich simply lets Petty, the Heartbreakers, fans and fellow travellers such as Steve Nicks, Jeff Lynne and George Harrison (no Dylan surprisingly), and journalists comment on what a long, strange trip it has been.

And it has certainly been that: with extensive home movie footage of Petty's early bands, the Heartbreakers breakthrough tours of the UK and Europe in '77 (the only cool American band in the last days of pubrock and early days of punk), television and live performances and so on, this story takes Petty from playing in a field near his hometown of Gainesville in Florida (they wanted to do an outdoor concert so put it on themselves) to LA looking for a record deal to making a stunning debut album and then strenuous touring.

Along the way there are remarkable battles with his record company which almost stopped his career before their third album, Petty breaking every bone in his hand when he hit a wall out of frustration, his house being burned down in an arson attack, the death of his mother, a line-up change, the Traveling Wilburys, the death of bassist Howie Epstein through an overdose, the softening of the band's sound after his Wilbury period and so on.

Along the way the various Heartbreakers speak candidly of their frustrations also (Tom doing a solo album without informing a few key members) and both drummer Stan Campbell and keyboard player Benmont Tench let it be known they never considered themselves just Tom's sidemen - and it seems nor did he.

What is fascinating is the fierce loyalty they show each other (most often) and how even when Petty took off on tangents he took the band with him.

Petty looks pretty haggard in the current interviews, but then again he gave his all for rock'n'roll and if this doesn't have the breadth of some music docos -- no real analysis, and no discussion of the "southern" quality of their music -- then it still stands up as an impressive doco about a rare rock'n'roll band, one which has just kept going despite the odds.

Damn the torpedoes, as that classic album title had it.

The double disc DVD comes with a disc of the 30th anniversary concert in Gainesville and a CD of live tracks and rehearsals. A seriously impressive package worth checking out.
For more docos about rock, jazz, blues and elsewhere music see Film in Elsewhere.