Graham Reid | | 3 min read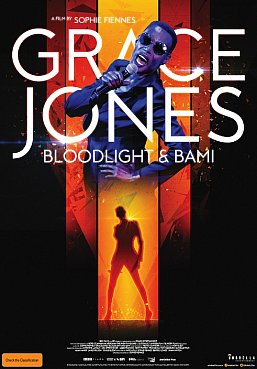 It sometimes seems that anyone who ever encountered the extraordinary Grace Jones, or had even just been in an airport when she has walked through, has a story to tell: Of her sunbathing naked on a beach outside a swanky hotel in Barbados (or was it Jamaica?); her arriving punctually four hours late for recording sessions or photo shoots; her imperious demeanor and cast of minions . . .
No doubt there is a private Grace Jones but few appear to have encountered her in slippers, dressing gown and making a cup of tea.
Jones – who appears here at the Auckland City Limits festival on March 3 – is totemic, an icon, a cypher for a prism of different aspects of pop culture, women, gender politics and whatever else anyone might want to attach to, or project on, her.
But interestingly right at the start of this doco by Sophie Fiennes – which opens in cinemas on March 8 – we see a clutter of fans hanging out post-show for autographs and Jones saying, "My mother is waiting".
And the fans all laugh.
Like the otherworldly Grace Jones would have a mother? Let alone one waiting for her?
But then there we are, the camera following a very casually dressed Jones walking through an airport concourse with her mum, then in Jamaica being hugged by family and friends. Not the superstar but a woman who has come home and is laughing unselfconsciously while dishing out presents.
It's an insightful and seemingly unfiltered glimpse of another Grace Jones, one a long way removed from the amazonian figure so familiar under the spotlight.
Then, in a voice-over from a very staged live concert she speaks about her upbringing, then she is seen sitting around a tiny dining room table with family getting "the history right" and asking her parents – from the Williams and Jones families – about how they got together and so on
It's a fairly typical dinner table conversation in that people laugh and talk over each other so we might be none the wiser . . . then the film cuts to a live performance of Williams' Blood from her 2008 album Hurricane about the story she has learned and segueing into a strained, tearful and overwrought Amazing Grace . . .
These cuts from private person back home in Jamaica enjoying family, fresh air and fresh fruit (always aware of the camera however) to public personae (ditto) makes for some odd juxtapositions, notably when we hear her angry one-sided phone conversation with Sly and Robbie about a recording session for Hurricane she is trying to arrange and is paying for herself.
Sometimes she is charming, at other times you can sympathise with her angry frustrations.
So the narrative, such as it is, jumps back and forth in time and location and intention.
And peppered throughout are filler shots of Jamaica, her in the studio (which is as dreary as most sessions are, a lot of sitting around listening), back to staged live footage of her performing This Is (from Hurricane), talking aimlessly with a taxi driver in Paris and then her son on the phone, a largely lacklustre TV performance in the city with baby-doll dancers ("Very tacky isn't? I'm like a lesbian madame in a whorehouse!") . . .
Then: back to Jamaica, back to the studio, back to that stage . . .
On her performance of Pull Up to the Bumper she seems going through motions (slowly), and in its closing overs she is sitting down and encouraging others to get up and dance.
Because it can't quite decide where to locate itself in its almost two hour running time – is it a PR film for the Hurricane album, a look behind the mask and persona, a concert film? – Bloodlight and Bami is annoyingly shapeless, by turns interesting, irritating, enlightening, tedious and entertaining.
By the bitter end however, and it really does seem like a long haul, Fiennes has penetrated a little behind the mask, the myth and the mythology of Grace Jones.
It's ironic however that sometimes the plain folks back home in Jamaica talking about family, the church and their lives – and where the extended family live which is almost diametrically opposed to Jones' world, although to her credit she fits easily into both – is actually more interesting than much of the rest.
With clearer focus, this film – which you might wish had been made two decades ago when Jones was a very different amazing Grace – could have been so much more.
.