Graham Reid | | 3 min read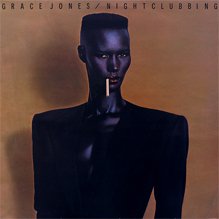 In Roman Polanski's 1988 thriller Frantic, the actor Harrison Ford gets to play a role he would repeat many times: Homo Panicus, the ordinary man under pressure.
When Ford's character, a surgeon from San Francisco, arrives in Paris with his wife for a conference they discover she has collected the wrong bag at the airport. And there the story begins: she disappears mysteriously, he starts to investigate and it is clear the contents of the bag are the key.
But throughout he is in a land where others carry on conversations he cannot understand, it is a world of tiny apartments up narrow flights of stairs or in claustrophobically small lifts, there are back alleys and strange cultural habit.
He is, unhappily, an American in Paris.
And throughout the film we hear a strange music on the soundtrack: it is Grace Jones' I've Seen That Face Before/Libertango off her '81 Nightclubbing album, the eerie spaciousness of the rhythms and beats, that cold and emotionally distant voice, capturing the mood of Gallic indifference which Ford's character encounters frequently.
Many albums capture the spirit of their era, but only few manage to also resonate beyond it.
Jones' Nightclubbing is a rare one.
In many ways it was the apotheosis of the world in which it arrived. At the time many artist played with gender and androgyny: the biggest acts in the world were a man who dressed as a woman (Boy George) and a woman who dressed like a man (Annie Lennox from the Eurythmics).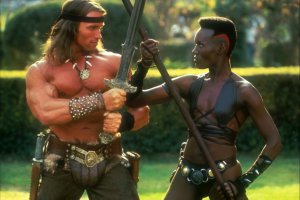 And above them all was the glacially cool but steamy hot Jones, a woman who was undeniably female but had the stature and bearing of physically powerful man.
Little wonder she got to play alongside Arnie in Conan the Destroyer a few years later. Although as an actress she proved to be a very good model and singer.
Added to that gender-teasing was the fact she had a look-alike brother Christian.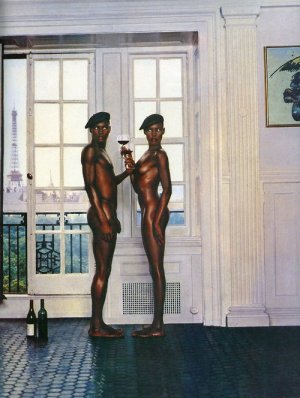 When she and him were photographed together – as by Jean Paul-Goude who also created the striking Nightclubbing album cover – the effect was confusing, and on Nightclubbing's Walking in the Rain (written by Vanda-Young, formerly of the Easybeats) she rumbles "feeling like a woman, looking like a man".
As a former model, Jones knew how to use the camera, and she'd done more than enough music before Nightclubbing's predecessor Warm Leatherette in 1980 – three albums of disco/Eurodance with Tom Moulton – that she was confident in the studio.
Warm Leatherette announced the arrival of new, aloof and more dub-reggae orientated Jones. Recorded at Compass Point Studio in the Bahamas with Sly'n'Robbie, Wally Badarou and various top-flight reggae players, it put Jones loosely back into her home turf (she was born in Jamaica), and producers Chris Blackwell and Alex Sadkin astutely chose contemporary songs and spaciousness which let Jones stand front and centre.
During these sessions they also cut a version of Pull Up to the Bumper, but it didn't seem to fit so was held over.
Just as well, because that barely-coded piece of sexuality – written by French singer Jacques Higelin – became one of the centrepieces on Nightclubbing, the album which took its name from the Bowie/Iggy Pop-penned song which had appeared on Iggy's '77 album The Idiot, albeit in a more grinding and thicker version.
Nightclubbing, the album, was Grace Jones' defining moment as it bridged clubland and a funk-influenced New Wave pop courtesy of the inspired reggae sensibilities of Sly'n'Robbie (then the greatest rhythm team in popular music), Mikey Chung (guitar) and Tyrone Downie and Wally Badarou (keyboards).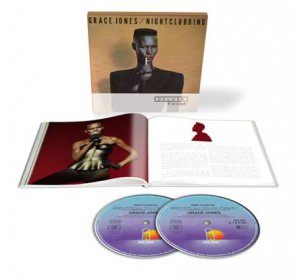 In their hands the music beds were cool but steamy, often spare, and always interesting. Even now.
Apropos of no particular anniversary – usually what drives reissues – Nightclubbing now appears again in an excellent remaster, and with remixes (including a seven minute treatment of the title track and an instrumental version) but also material which didn't make the final cut, including her take on Gary Numan's Me, I Disconnect From You, a sentiment entirely in keeping with her dispassionate delivery.
By slightly throwing the emphasis away from Jones, many of these extra tracks remind you just how classy, calculated and considered these musicians were.
But Nightclubbing is always going to be about Grace Jones and few albums from that year or even period have endured quite so well, or sound as full of menace, sex and sensuality as this one.
.