Graham Reid | | 1 min read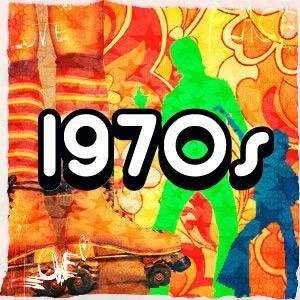 Over a decade ago Elsewhere wrote about a collection of Seventies clips from Britain rock programme The Old Grey Whistle Test and concluded that, if nothing else, it was a decade of very strange and new hairstyles from massive Afros and dreadlocks to Ziggy, glam dye-jobs and on to punk jags and Mohawks.
And every hairstyle was emblematic of a new style of music.
In some circles the Seventies were dismissed as The Decade That Taste Forgot (flared jeans a prime offender it seems) but it was also a time when the possibilities the Sixties offered flowered and took root in everything from dance music to psychedelic rock to raw blues and angry punk . . . although some of those who prepared the ground like Hendrix, Joplin, Morrison and others didn't live to see it happen.
This hour-long US doco (so it is very American with comments from The Seventies series producer Tom Hanks and so on) opens with the endings – those deaths and the end of the Beatles taking up a good six minutes with solo career footage, the Stones and such – which means the amazing diversity of the decade gets squashed early on under the hoof of Sixties artists.
The first 10 minutes tells us nothing new about solo Lennon, the Concert for Bangladesh and Exile on Main Street but you are seduced by the clips of them, and Bowie live before the first ad break.
After that things improve with Joni Mitchell and the LA singer-songwriter scene, Carole King, Linda Ronstadt, the new US-UK edition of Fleetwood Mac . . .
Then black artists: the Jackson Five which allows a fold-back to Motown in the Sixties, the new Marvin Gaye and more adult Stevie Wonder (and that's your lot for them folks).
Heart somehow segues into theatrics (Alice Cooper, Earth Wind and Fire, Grand Funk Railroad and arena rock) and Led Zeppelin in their 707 ("The kind of plane thatpresident Richard Nixon has") and rock as a business.
Springsteen then disco with Moroder and Donna, money, the Ramones and back to basics, British punk, Talking Heads, Steely Dan and so on . . .
Quite a mash-up and lots and lots of gaps or artists diminished (Brother Bob? Bolan??) in the bite-sized rotation of course.
But gosh, don't those still alive today look so young 40 years ago.
So you don't come here for much insight and explanation, but television is rarely about that, it's about pictures . . . and you certainly get those in this distilled version of a decade notable for its increasing diversity.
And hair.
The Seventies; What's Goin' On screens on Prime TV, Tuesday May 15, 8.30pm