Graham Reid | | <1 min read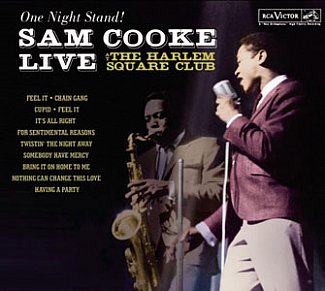 Although the great Sam Cooke is best remembered by radio programmers for smooth pop hits (Cupid, You Send Me, Bring It On Home To Me, Wonderful World) and his posthumous classic A Change is Gonna Come, he could also deliver a feisty rock'n'soul review show.
But with his good looks and mainstream success, that aspect of style was often downplayed by his management and record company people.
In fact his terrifically energetic show at the Harlem Square Club in 1963 wasn't released until 1985, more than 20 years after his death.
It was a great concert and even songs like Cupid are given a raw and gutsy treatment.
We mentioned this album when we looked at the CD box set Sam Cooke: The RCA Albums Collection which included the concert along with his excellent Night Beat and My Kind of Blues (along with five other albums) which showed the breadth of his talent.
This is pretty straight ahead party music . . . but it's a Sam Cooke not many have heard.
.
For more one-off or unusual songs with an interesting backstory see From the Vaults.