Graham Reid | | <1 min read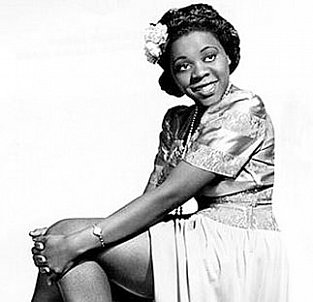 Written by Lionel Hampton and Leonard Feather, Evil Gal Blues perfectly captured the independent spirit of black women at the time, and was the first recording by Dinah Washington and started her short career.
She was 19 when she sang this and died just 20 years later of an accidental overdose of prescription drugs.
In those two decades she recorded mainstream pop hits, jazz classics, torch songs and a few in the dirty blues genre, among them Big Long Slidin' Thing. When it came to sex the lady knew what she was talking about, she was married six times.
This saucy and self-assertive song fitted her perfectly, even as a young woman: "I'm an evil gal, don't you bother with me. Yes, I'm an evil gal, don't you bother with me. I'll empty your pockets and fill you with misery.
"I've got men to the left, men to the right. Men every day and men every night!
I've got so many men, mmm I don't know what to do. So I'm tellin' you daddy, I ain't no good to you!"
Six husbands thought she was good enough for them.
.
For more one-off or unusual songs with an interesting backstory see From the Vaults.