Graham Reid | | 1 min read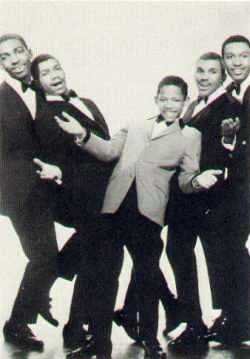 When Brian Wilson wrote the wonderful Wouldn't It Be Nice about that adolescent yearning to be older (and therefore able to indulge in carnal activities without judgement), he was part of lineage of such songs by the likes of the achingly soulful Cross My Heart by Billy Stewart and . . .
This by the New Jersey doo-wop group fronted by 14-year old Ronnie Goodson which couches sexual desire under the acceptable banner of marriage.
Perhaps like the young Michael Jackson singing I Want You Back, we might assume Ronnie had little real understanding of the lyrics although . . .
His girlfriend was Eva Boyd (Little Eva) who had a hit later that same year with The Locomotion who was 19 at the time (although it seems she was sold as being only 16) so . . .
But back to Ronnie who has a strong soulful voice and the song has a spoken word passage (very popular in the late Fifties and early Sixties) and then Ronnie breaks down and cries like "the nabob of sob" Johnnie Ray of a decade previous.
The group had a few other hits but then the times changed and doo-wop pop was pushed aside by beat-pop from Britain (although survived in a different fashion through the Four Seasons, also out of New Jersey).
And that was it for Ronnie?
It was, although some people have confused him with a same-name Ronnie who was the trumpeter in John Fred and His Playboy Band who had the hit Lucy in Disguise (With Glasses) in 1967.
An easy mistake to make, if you ignore the fact that our Ronnie – who died in 1980 – was black and the Playboy Ronnie was white, our Ronnie came from New Jersey and the Playboy Ronnie was out of Louisiana . . .
For more one-off or unusual songs with an interesting backstory see From the Vaults.