Graham Reid | | 1 min read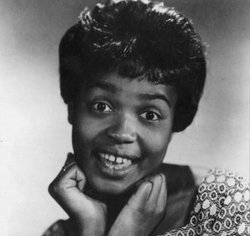 When Little Eva died in 2003, most obituaries got in the story that she had been Gerry Goffin and Carole King's babysitter and, inspired by her odd dancing style, they penned The Locomotion for her, which was a massive hit in 1962.
Little Eva -- born Eva Narcissus Boyd -- was 16 at the time.
That story seems unlikely or exaggerated, but it is true that Goffin-King also wrote He Hit Me and It Felt Like a Kiss (which Phil Spector produced for the Crystals, it is here) after learning Eva was often beaten by her boyfriend, but she said he did it out of love for her.
Like so many singers whose career was attached to a dance move (real or invented), Little Eva's career came to an abrupt halt within a couple of years (not helped by the arrival of Beatlemania) and her innocent pop and seemingly irrepressible personality -- not exactly conveyed in her nervous performance on Shindig, see below -- looked increasingly uncool as the Sixties rolled out.
By 1965, pop was for kids, Rubber Soul and Aftermath had arrived, and something called rock was just around the corner. Pre-Beatles stars looked and sounded dated.
But Little Eva's music had an upbeat vibrancy -- which is perhaps why Kylie Minogue's cover of Locomotion took off in the more hedonistic (and narcissistic?) Eighties.
The Trouble with Boys -- co-written by Goffin and Jack Keller, produced by Goffin -- wasn't a hit for Little Eva. By October '63 her star was fading.
But in it you can hear the sound of a more innocent age. And also Little Eva's irrepressible energy, despite the theme.
For more oddities, one-offs or songs with an interesting backstory check the massive back-catalogue at From the Vaults.