Graham Reid | | 1 min read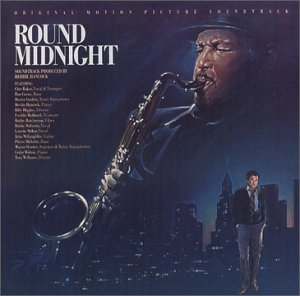 When it comes to movies about jazz, the jazz audience is almost impossible to please. Every detail – even in fictions – must be authentic, or at least ring true to the art, the artists, the milieu, the audience . . .
Tough call, and why Clint Eastwood's Bird was often curtly dismissed despite its many strengths (however replacing the original musicians behind Charlie Parker's solos was an odd decision). And why Whiplash got a pasting (what serious jazz drummer would have a photo of Buddy Rich on his wall, one commentator whined).
In this context the Bertrand Tavernier film Round Midnight got an easy ride, perhaps because the pivotal figure in it was the great Dexter Gordon who plays Dale Turner, a musician in exile in post-war Paris as so many jazz greats were.
Lovingly shot with all the music recorded live, Round Midnight was one of the most convincing and enjoyable films about this difficult art.
It isn't all good – Lonette McKee as the Billie Holiday cipher is almost superfluous and for some reason gabby Martin Scorsese appears at the end. But Gordon, his sidemen (who include John McLaughlin, Bobby Hutcherson and others) and the music are excellent.
The film has just appeared BluRay and is well worth a look if it went past you thirtysomething years ago.
Aside from the standards (the title tune, Body and Soul, How Long Has This Been Going On and others) the stellar cast of musicians got to play new material by Herbie Hancock, among them this lovely tune which features Hancock (piano), bassist Ron Carter, drummer Tony Williams and Bobby McFerrin on vocals.
Apparently Hancock wrote four arrangements of the tune: a quintet version which Gordon plays in the film to his daughter; as a solo piano piece, a full orchestra version with Wayne Shorter and McKee . . . and this one which is on the soundtrack album.
Hancock won an Oscar for best original score and 63-year old Gordon – who died four years later – was nominated for best actor.
Jazz critics will no doubt find faults, but there are very few and the evocation of a period and the way the music is presented make Round Midnight one of the best films in a very difficult genre.
.
For more oddities, one-offs or songs with an interesting backstory check From the Vaults.