Graham Reid | | 1 min read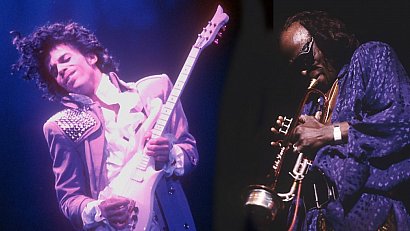 Not long after Prince met Miles Davis by chance in an airport in December '85, the little purple one penned this song – mostly little more than an over-busy extended funky groove and riff – in the hope that the dark magus would get together for a collaboration.
Davis, perhaps remembering he'd missed the opportunity to play with Hendrix because at the last minute he (Davis) had demanded more money, then Hendrix died – recorded a trumpet part two months later and sent it back to Prince.
This could have been a collaboration made in corporate and financial heaven because at the time Davis had just signed to Warners after being on Columbia for decades. He was about to deliver his Tutu album which would resurrect his career and place him clearly in the electro-funk realm.
Unfortunately for all concerned, Prince felt the track – which also featured his saxophonist Eric Leeds – didn't think it fitted onto his album Sign o' The Times and so it was sidelined.
"I remember Prince's reaction when he got the tape back," says Leeds. "He wasn't enthralled with it. Not so much because of what Miles had done with it, but he just realised that there wasn't really anything brilliant about it. It was something that had been hastily and impulsively done."
This comes from the huge box set of Sign O' The Times outtakes and alternate versions.
On December 31 1987 Davis joined Prince onstage at a concert in Paisley Park.
And then there is this churning piece below by Prince and Davis which is terrific.
.
For more oddities, one-offs or songs with an interesting backstory check the massive back-catalogue at From the Vaults.
.