Graham Reid | | <1 min read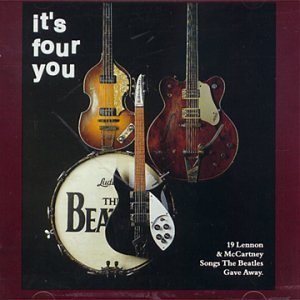 There are any number of bands who can convincingly replicate the look, sound and songs of Beatles (our money always goes to excellent Bootleg Beatles).
But Australia's Beatnix took a different path on their It's Four You album, a compilation which came out through Glenn A Baker's Raven reissue label in 2017.
They covered very early songs that Lennon and McCartney wrote but never performed, mostly McCartney songs, he was really cranking them out: Nobody Knows, Woman, I Don't Want to See You Again and World Without Love (for Peter and Gordon); Step Inside Love and Love of the Loved (Cilla Black); Bad to Me, From a Window and I'll Keep You Satisfied (Billy J Kramer and the Dakotas; Tip of my Tongue for the much-feted but ill-fated Tommy Quickly) . . .
A few of these originals have turned up as demos on Beatle bootlegs over the years but the Beatniks sought-after album is a very interesting one-stop-shop of what the songs might have sounded like if the Beatles had actually recorded them for release.
A friend slipped me a burn of it recently – it is that hard to find and pretty pricey if you do – and on the end he tagged on this Beatnix' version of Led Zeppelin's Stairway to Heaven.
Make what you will.
.
For more oddities, one-offs or songs with an interesting backstory check the massive back-catalogue at From the Vaults.