Graham Reid | | 1 min read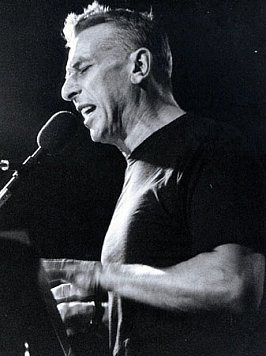 As with anyone who was there, I have a vivid memory of John Cale's show at the Gluepot back in September '83, and in fact I still have the poster ("Tickets sold! Limited door sales. Be early!")
Cale's Sabotage/Live from '79 can't be topped for the sheer intensity he brings to material like the thrilling seven minute version of Mercenaries (play at full volume and then put on Pere Ubu's Thirty Seconds Over Tokyo, two back-to-back tracks that will have you either air-punching or cowering behind the couch).
For sheer passion and intelligence Cale can't be topped, which is why he has had a much more interesting solo career than his fellow traveller from the Velvet Underground, the self-important Lou Reed.

There are dozens of Cale albums around but anyone wanting a one-stop shop wishing to find out what the fuss is all about should check out the Rhino double disc set (with booklet) Seducing Down the Door which covers the two decades from 1970 and brings you up to the Andy Warhol tribute album Songs For Drella which he did with Lou.
It covers rock'n'roll (Fear is a Man's Best Friend, Dirty Ass Rock'n'Roll), those chilling covers (Heartbreak Hotel, Walkin' The Dog), his classic songs (Pablo Picasso, The Soul of Carmen Miranda) and much more.
And the eerie, mysterious and beautiful Chinese Envoy (inspired by a Guy de Maupassant short story), a song I remember clearly from that Gluepot gig.
For more one-off or unusual songs with an interesting backstory see From the Vaults.