Graham Reid | | 1 min read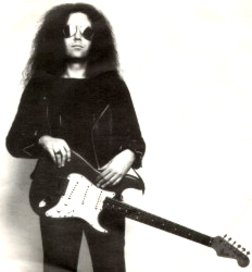 The punk era tossed up -- threw up? -- some real oddities, few more unexpected than Wallis who was no spring chicken in the world of short haired rock'n'roll for angry 18-year olds.
He'd been in the music game for over a decade and in the Sixties had been in such household names as The Entire Sioux Nation and Shagrat. To be fair, Shagrat morphed into the Pink Fairies (which had ex-Tyrannosaurus Rex member Steve Took and former Deviant Mick Farren in the ranks).
Wallis later quit and did stints with blues rockers Blodwyn Pig (who'd enjoy small success with the single Hey Jill) and then briefly with heavy rockers UFO. He came back into the Fairies in '72 in time for their tough-minded Kings of Oblivion album and then had a brief stint in Motorhead.
He recorded a solo album (which went unreleased for almost five years) then started the Fairies up again and they recorded a single for Stiff, the home of Ian Dury, Jona Lewie, Elvis Costello and others.
While at Stiff he became their in-house producer and did albums for the Stiff Little Fingers, the Adverts and the Motors.
And along the way cracked this odd little single in late '77 which was produced by Nick Lowe.
It hardly set the charts alight, but it did get him a slot on the famous Live Stiffs tour alongside Wreckless Eric, Lowe, Costello and Dury -- and he even got two songs with Lowe on the resulting live album.
A man this adaptable was never going to go away quietly and he went on to produce albums from Farren and Wayne Kamer of MC5, he resurrected the Fairies, produced for Lee Brilleaux of Dr Feelgood (they'd covered his As Long As The Price is Right) and . . .
He's in his mid 60s now . . . but we probably haven't heard the last of him.
For more oddities, one-offs or songs with an interesting backstory use the RSS feed for daily updates, and check the massive back-catalogue at From the Vaults.