Graham Reid | | 2 min read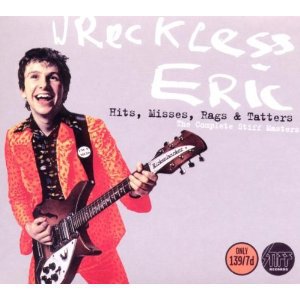 Long overdue for a revival, reconsideration and wider recognition, Eric Goulden aka Wreckless Eric has been usually dismissed as a one-hit wonder (but was it Whole Wide World, Semaphore Signals, Veronica, I Wish It Would Rain or A Pop Song?).
Or written off as a kind of punk comedy act (just because he had a sense of humour?)
Of course in the late Seventies he was up against some major players on the emerging Stiff label, characters like Elvis Costello, Nick Lowe, Ian Dury, and Graham Parker and the Rumour.
But even so, his ragged songs (with a nod to broad music hall humour at times) were delivered with urgency, conformed to the precepts of pop (verses and memorable choruses, and he covered Tommy Roe's Dizzy and Buddy Holly's Crying Waiting Hoping) and they had a gutter-level honesty about them.
Larry Wallis' production of his self-titled debut album (with the lesser songs like Personal Hygiene and Brain Thieves among them) ensured the sound was live and direct, although it was Lowe who brought out the sandpaper pop on his gritty Whole Wide World.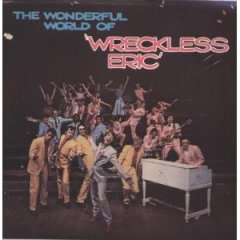 You'd never have accused Wreckless Eric of pretension.
His songs were short and pointed, and his second album The Wonderful World of Wreckless Eric (in a terrific, parodic cover) still gets hauled out at my house from time to time.
It is chock full of great songs from the openers Walking on the Surface of the Moon and Take the Cash through Dizzy and Veronica to Let's Go To the Pictures and that Holly track at the end.
It is alive with promise too and you hoped that people would get it.
They didn't -- and his double Big Smash in a vibrant pop art cover . . . . well it just wasn't, despite material like A Pop Song and the built-in "greatest hits" album.
Pinned in some media as something of drunk (sometimes Eric provided the evidence for the prosecution), his career with Stiff was over by 1980 and the man they billed as "an original in a world of imitators" was largely forgotten.
He continued to record and down the years a few people (the re-formed Monkees in 87, Mental As Anything, Die Toten Hosen) would cover his songs.
But despite getting back on the revived Stiff for an album with his wife Amy Rigby in '08, Wreckless Eric largely remains a private passion for a selective few.
This double disc collects 40 songs from his Stiff years on two discs, with a good wee booklet.
And his raucous, funny and often sneeringly intense tongue-in-cheek pop still sounds pretty damn good. Overdue for a revival I think.