Graham Reid | | 2 min read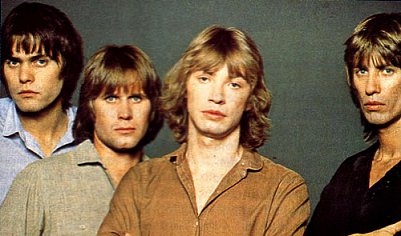 In that great alphabet of power pop kicked off by the Beatles and which includes Badfinger, Big Star, Cheap Trick and so on, the Shoes out of Zion, Illinois are perhaps the least known today.
That doesn't mean they are forgotten or won't be rediscovered however: the Elektra bio which came with their major label debut Present Tense noted that when their earlier, independently produced debut album Black Vinyl Shoes was released "reviewers invoked the Beatles, Byrds and Who (not to mention such lesser-known outfits as Big Star and the Raspberries), and Shoes indeed were reminscent of the 60s masters, not the least in their natural, unself-conscious gift for youthful pop".
That was 1978 (Big Star who are almost household names these days had only broken up a few years previous but even by then were "lesser-known") and Shoes -- brothers John and Jeff Murphy, Gary Klebe and Skip Meyer, one of a few drummers -- were being tipped for very big things.
Their Black Vinyl Shoes (15 originals recorded on a four-track tape machine in Jeff's living room, just 1000 copies pressed) had captured the imagination of the few who heard it --- notably critic Greg Shaw of Bomp Records who persuaded PVC Records to reissue it -- and people also admired their professionalism. The album included a lyric sheet and came shrink-wrapped just like proper albums.
"We were shooting for this higher thing. We figured we were in competition with the big dogs right off the bat," said John.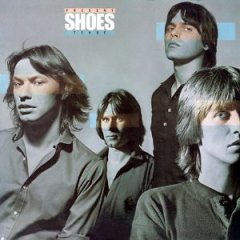 But their soft, ghostly harmonies and sense of a winning melody scored them a deal with Elektra and for their follow-up Present Tense they were whipped off to Manor Studio in England.
Present Tense was the album which should have seen them go global but despite enthusiastic reviews everywhere it only reached 50 in the US.
They had arrived at the time of British punk and American New Wave, and disco.
But even now the glistening, slightly eerie harmonies and classic pop structures have great appeal -- and they don't sound that far removed from current bands like The Pains of Being Pure at Heart.
No Shoes, no Posies perhaps?
The lead-off track on the Present Tense album is Tomorrow Night, a re-recording of the single they did for Bomp. It encapsulates the Shoes sound and links them with that great alphabetical lineage. But despite some MTV play a few years later when the channel first started, the Shoes slowly fell from sight although they continued to record throughout the Eighties, then even more sporadically after that.
Their moment had passed.
A curious footnote though: The same week they were about to sign the contract with Elektra, American television aired an episode in the Heroes of Rock'n'Roll series. In it the young Beatles were being interviewed and asked about the origin of their name.
John Lennon said they pulled it out of the blue, they could just as easily have been . . . the Shoes.
"Yeah, it could have been the Shoes," said McCartney leaning into the mike.
"I'm sitting there shaking, " said Shoes bassist John Murphy later. "My friends are looking at me going, 'What in the world . . .?'
"I just said, 'This is going to come back to us."
For more on-offs or songs with an interesting back-story see From the Vaults.