Graham Reid | | 1 min read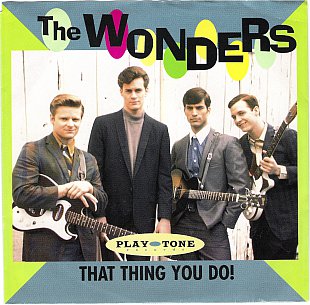 In his Grammy-grabbing career -- between Philadelphia, Forrest Gump, Apollo 13 and Saving Private Ryan, You've Got Mail and The Green Mile -- Tom Hanks did a small, cute, mostly inconsequential and slight pop movie, That Thing You Do!
Clearly this story of an imaginary one-hit wonder pop group from Pennsylvania in '64 was something close to his heart. He wrote the story and directed the film, played the part of the group's manager, and convinced the likes of the young Liv Tyler and Charlize Theron to appear in it -- alongside his wife Rita Wilson, Giovanni Ribisi, Steve Zahn and Tom Everett Scott. There are brief appearances by Chris Isaak and trumpeter Alphonse Mouzon.
It isn't much of a story: the drummer in a local pop group breaks his arm, they recruit a new guy who much prefers jazz but who adds a Mersey-style backbeat to their ballad, it becomes a hit, the singer/writer is jealous of the drummer's cool look (Hanks puts him Roy Orbison shades) and they break up. That's about it.
But the film does capture some of the excitement and innocence of the Beatles-era pop scene in the US -- and had an interesting soundtrack.
Adam Schlesinger of Fountains of Wayne wrote the catchy Beatles-like title track (sung by Mike Viola of the Candy Butchers and later the lead singer in the parody film Walk Hard: The Dewey Cox Story), Hanks wrote four others, and there are gentle parodies of the adult MOR of the period (cf Ray Conniff and Mitch Mitchell).
Oddly enough the very catchy but retro title song charted in the US and was nominated for both a Golden Globe and a Grammy.
More weirdly -- but also rather obvious when you think about it -- the song was later covered by none other than a band which had aped Beatles-era pop to great if equally short success as the imaginary Wonders . . . the Knack.
For more on-offs or songs with an interesting back-story see From the Vaults.