Graham Reid | | 5 min read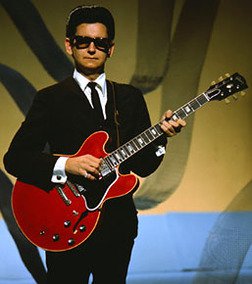 Looked at one way, the great Roy Orbison (who died in late '88) had five separate careers, but he only ever changed musical direction once.
"The Big O" -- or "the Caruso of Rock" -- as he was known, had long periods away from the spotlight and it would be fair to observe his defining work was done in an exceptional period of creativity which lasted just four years.
Orbison's most productive and creative time was right at the start of the Sixties. It was when rock'n'roll of the Fifties died out (literally in the case of Buddy Holly, but Elvis and Little Richard, Jerry Lee Lewis and Chuck Berry were variously indisposed in 1960) and when the Beatles and their acolytes invaded America and put an end to vacuous pop in sweaters and with swishback hair.
Orbison during this period was signed to the Monument label and just kept delivering songs of such distinctive genius that few have ever tried to replicate his sound. (Curiously enough kd lang has been the most successful, perhaps because she has the range and a feel for country music which Orbison had grown up on).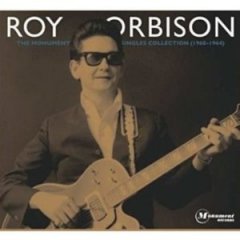 It is a measure of how exceptional Orbison's output at this point was when you look at the double CD/DVD The Monument Singles Collection (1960-1964) released on what would have been his 75th birthday in April 2011. And it's all in glorious mono.
A song such as Leah -- where he unleashes the full dramatic range of his voice from the first aching note -- was the B-side of his rock'n'blues-influenced Working for the Man.
Leah has a narrative, as had many Orbison songs, and -- over the sparest of drumming and a Hawaiian-sounding guitar and backing vocals -- it tells of an oyster diver getting pearls so he can make a necklace for his beloved Leah . . . "but something's wrong I cannot move around, my leg is caught, it is pulling me down, but I'll keep my hand shut tight because if they find me, they'll find the pearls for Leeeeeeaaaaah".
Of course this is high camp drama (he wakes and it was just a dream, even worse) but Orbison was one of the few who could pull off this combination of melodrama, dreams, love and a vague sense of the exotic. And as with so many of his songs -- he co-wrote most Joe Melson and Bill Dees, although Leah like the similarly framed In Dreams was his alone -- there is a whiff of desperation and vulnerablity about his character and in the delivery.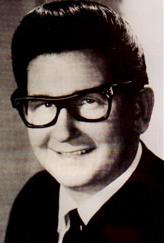 And Orbison was a man who could cry -- not like Johnny Ray but a genuine ache from within . . . as on Crying.
As Robin Gibb, an aspiring young singer-writer at the time, said of Crying which was released in '61, "He made emotion fashionable, that it was all right to talk about and sing about very emotional things."
Quite how Orbison got to that point is interesting, because he started out as a fairly ordinary rockabilly singer signed to the Sun label alongside Elvis.
That was his first career and it sprung the mundane minor hit Ooby Dooby (the title tells you enough) and his first major songwriting credit on Claudette (about the girl he would marry) which the Everly Brothers had on the b-side of their chart topping All I Have To Do Is Dream.
But Sun held no future for Orbison so he quit, became a songwriter for Acuff-Rose and then signed to Monument, a label out of Nashville where its owner Fred Foster produced some Orbison material using excellent session musicians such as pianist Floyd Cramer, saxophonist Boots Randolph and others.
In quick succession Orbison delievered Only the Lonely and I'm Hurtin' (which still had their roots in doo-wop of the Fifties but hinted at the heartaching theme he would develop) . . . and then the remarkable Running Scared which adopted a Bolero approach, a soft and repeated rhythm which is more strident and ascending as his voice becomes more powerful and hits a peak at an extraordinarily dramatic crescendo.
Orbison had found his sound . . . and with strings, drama and a storyline about a man in doubt and pain he had established an identifiable style.
There were lesser songs during these year (Lana, and you never believed him when he sang Let the Good Time Roll) but when you add in Crying, Blue Bayou, Dream Baby, In Dreams, It's Over, Pretty Woman, the much covered Love Hurts, Candy Man and Leah it is a remarkable track record.
Roy Orbison had everything going for him, except one thing in those days of teen magazines and wall posters.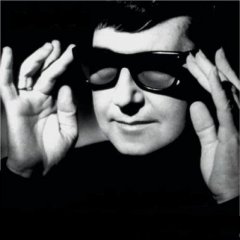 Always pasty-looking and somewhat featureless -- and without a publicist -- Orbison became a passion for those who only needed the music and not the marketing.
But he was never going to be a teen idol.
The chance good fortune of leaving his spectacles on a plane and having to wear his prescription sunglasses gave him a mystique which he carried into a career.
The tragic death of his wife Claudette in mid '66 then the loss of his two eldest sons in a housefire in '68 while he was on tour in the UK only added to the drama of his otherwise quiet life.
His songs seemed to take on even more meaning.
But by that time, the late Sixties, Orbison has already started to slide out of the spotlight.
He had made the change from rockabilly and doo-wop into a style of his own on Monument, but when he shifted to MGM in '65 and tried to get into movies like Elvis his career had faltered.
He spent the Seventies almost invisible -- although Gram Parson and Emmylou Harris Linda Ronstadt and Don McLean covered his early material (Love Hurts, Blue Bayou and Crying respectively) and Springsteen famously namechecked him "singing for lonely" in Born to Run.
But his third career came when he re-recorded his classic songs for the album In Dreams in the late Eighties and fans such as Elvis Costello, Tom Waits, Bonnie Raitt and others lined up for what became the concert film A Black and White Night.
His fourth career was in the Traveling Wilburys alongside Bob Dylan, George Harrison, Tom Petty and Jeff Lynne. His solo song Not Alone Anymore was a standout on their album.
The fifth and final career was too brief: the Mystery Girl album -- which sprang the hit You Got It, a lesser Orbison piece it must be said -- had only just been completed when he died of a heart attack.
Five distinct phases in a career that pivoted on those four great years on Monument, now reissued with a DVD from '65 in Holland of the great Roy Orbison doing what he only ever did, stand stock still on a stage behind tinted glasses and guitar and sing those great songs.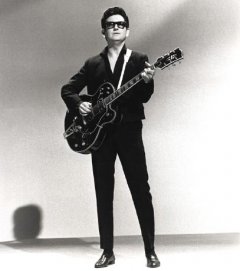 And the Dutch audience looks polite and slightly bored. Here was a man just standing there singing. The band looks bored too.
I only ever saw Orbison once and it was when his career was already into that long decline into the late Sixties and Seventies. It was in January '67 when he topped the bill over the Yardbirds (with Jimmy Page) and the Walker Brothers.
After the r'n'b excitement of the Yardbirds (Page playing guitar with a violin bow) and the Walker Brothers who praced around a lot, the great Roy Orbison did what he as only ever going to do.
Stand there and sing his songs.
People looked on politely and were slightly bored.
Many left, nothing to see here.
My friends and I sat there in silent awe.
This was the Big O . . . and his voice just nailed us to our seats.
Mercy!
Like the sound of this? Then try this.