Graham Reid | | <1 min read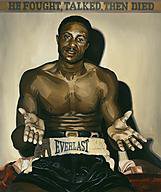 Bob Dylan's Hurricane in '75 is one of the best known songs about a boxer -- but very early in his career Dylan also sang another about a boxer, the fighter Davey Moore who was knocked out by Mexico-based Sugar Ramos from Cuba during a bout in March 1963.
Moore spoke to the media afterwards (the illustration is taken from a famous post-fight photo) but then complained of headaches, slipped into a comatose state and subsequently died.
At the time Dylan was taking many of his social-conscience stories from current events and just 18 days after Moore's death, Dylan played this song for the first time at concert in the New York Town Hall.
As a song about those involved in the fight game side-stepping responsibility it is pointed and his tone - somewhere between sadness, questioning and accusatory -- is increasingly engrossing as the song unfolds leading to the quite chilling, "I hit him, I hit him yes that's true -- but that's what I am paid to do . . . don't say 'murder', don't say 'kill'. It was destiny, it was God's will."
The song became quickly popular in folk circles and was covered by Pete Seeger and Phil Ochs but then, as with the death of Moore, it faded into the past.
But even now, with the events so distant, it still has power. This version was recorded in late '63 and is taken from the Bob Dylan Bootleg Series Vol 1-3.
For more unusual music or songs with a back-story see From the Vaults.