Graham Reid | | 1 min read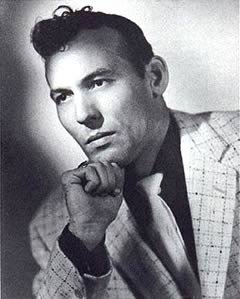 Known mostly these days as the writer of Blue Suede Shoes (he sang it before Elvis' chart-topping cover), Carl Perkins was the man who was the most hillbilly cat of them all in the early rock'n'roll era.
Looking like a cadaver with his sunken cheeks, and a heroic drinker, the married Carl was the Hank Williams of rockabilly . . . and Sam Phillips knew Perkins could be his next big star after Elvis.
The flipside of Blue Suede Shoes was Honey Don't (which Ringo later covered in the Beatles) and he also wrote Everybody's Trying to be My Baby (Harrison's turn on Beatles for Sale) and Matchbox (the Beatles again, in their early career).
But all that came later, at the time his career faltered after Blue Suede Shoes and a car accident.
Out of hospital and recovering, he wrote and recorded the bare Dixie Fried which, as writer Peter Doggett notes in Are You Ready for the Country, "ran on a heady brew of alcohol, violence and Southern pride".
"At a time when rock'n'roll concerts were being banned because they attracted juvenile delinquents, here was the newly crowned king of the genre spitting out lines like these: 'Now Dan got happy and he started ravin', jerked out his razor but he wasn't shavin'. . . . Carl hollered out his war cry in each chorus: 'Rave on children, I'm with ya . . . Let's all get Dixie fried'."
But that was it for Perkins, he's used up everything he could (although Matchbox did come shortly after) and he turned down the chance to record Great Balls of Fire. His piano player on Matchbox, Jerry Lee Lewis, picked it up and it became his career-defining hit.
Perkins retreated, drank, then abandoned the bottle to play guitar for Johnny Cash. It wasn't until the Beatles came along -- Harrison a huge fan and adopting Perkins' guitar style at an early age -- that he started to get his rewards.
When he died in 1998 at the age of 65 he'd been inducted into just about every music Hall of Fame going.
But the taut Dixie Fried remains one of his least known but best songs.
For more one-offs, oddities or songs with an interesting backstory see From the Vaults.