Graham Reid | | 1 min read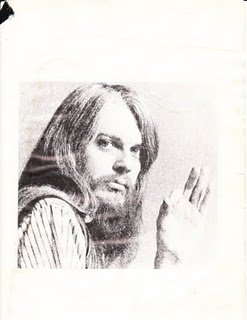 Leon Russell is like the Kevin Bacon of rock: there are six degrees of separation between him and anyone else. Actually, that's not true. There are about three.
Leon to the Beatles? Well he was at Harrison's Concert for Bangladesh so that takes care of that one . . . and opens enormous doors to others.
And Leon to Dylan? Same gig, more and different doors opening.
To Elvis? He played with Jerry Lee Lewis so that was easy. And as a session musician he has been on songs and/or albums with the Stones, Clapton, the Band, Sinatra, Badfinger, the Beach Boys, the Byrds, Gary Lewis and the Playboys . . .
And he started out with Phil Spector, recorded with Willie Nelson . . .
Make that two degrees of separation.
Curiously enough, despite his high profile as songwriter (early hits like Delta Lady for Joe Cocker, whose Mad Dogs and Englishmen tour he helmed) he has rarely troubled the singles, or even album, charts.
However his song Lady Blue from the Will O' The Wisp album in '75 did crack the US top 40. On that album was another song which was released as a single to considerably less success, but it is one of his finest vocal performances -- and still sounds like a song crying out for a rediscovery (and a cover).
Back to the Island -- complete with exotic bird noises and the roll of the waves -- conjures up a longing for the island home and has a wistful, almost country, tone.
That said, a Pacific reggae version seems obvious.
Might put Leon two or three degrees of separation from just about every musician in New Zealand.
For more oddities, one-offs or songs with a backstory see From the Vaults.