Graham Reid | | 2 min read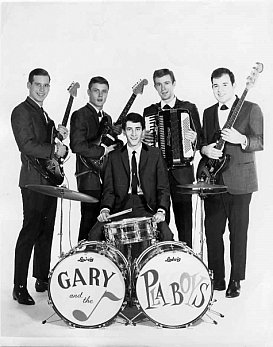 The offspring of Hollywood were just as swept up in Beatlemania as anyone.
The two sons of comedian Soupy Sales -- Hunt and Tony, drums and bass respectively -- were in Tony and the Tigers who appeared on Hullabaloo and had a couple of records out . . . although went on to more interesting things later when they joined Todd Rundgren, Iggy Pop (on Lust for Life) then David Bowie in Tin Machine.
Dino, Desi and Billy -- who had a couple of minor hits -- included the sons of Dean Martin, and Desi Arnaz and Lucille Ball. Dino later became a pilot and was killed in a crash in '87, Desi became an actor and played his father in The Mambo Kings, and Billy (Hinsche) played with the Beach Boys sometimes in the Seventies.
Gary Lewis (the son of Jerry Lewis) had the greatest commercial success when he and the Playboys scored a number of rather cool pop hits which included This Diamond Ring (which topped the US charts), Count Me In (see clip below) and Save Your Heart For Me (both to #2), and a few other top 10 singles (Just My Style, Everybody Loves a Clown, Sure Gonna Miss Her). Their songs were arranged by Leon Russell, then an anonymous session player.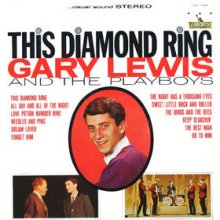 As with most such Beatle-influenced pop groups it was all over when the Beatles moved on to more adventurous pastures around Rubber Soul in '65 and only the clever ones could follow -- and it didn't help when Gary was drafted in early '67.
But Gary Lewis and the equally clean cut Playboys deserve their footnote in pop music's history.
Certainly their albums contained a lot filler by way of bloodless covers (Down in the Boondocks, Lies, Sha La La, the Beatles' Run for Your Life and You've Got to Hide Your Love Away) but their best singles were exciting, upbeat pop radio tracks.
To his credit, Gary had decided early that he wanted to make it on his own and not trade on Dad's reputation and the band secured a Disneyland gig without name-dropping. But then the inevitable connections were made so . . . why not?
When producer Snuff Garrett took them into the studio to record This Diamond Ring ( written by Al Kooper, Bob Brass and Irwin Levine) however he "did a Monkees" on them and had session players (including Hal Blaine, Russell and others) take over -- and a session singer did the lead vocal with Gary double-tracked over the top.
So is it Gary singing?
You decide -- but he sang enough for him to win Male Vocalist of the Year in Cashbox over Sinatra and Elvis.
The hits kept coming (Russell doing arrangements, Bones Howe who later worked with Tom Waits as engineer) and although band members changed (Carl Radle, later of Derek and the Dominos, was briefly the bassist), Gary and the Playboys were enormously successful.
Odd then that on the ballad Time Stands Still (written by Garrett, Russell and himself) Gary should have adopted Jerry's character voice for the central section. Silly boy.
When Gary tried "New Directions" (horns, whimsical pop-rock, light psychedelia) on the not-bad-at-all '67 album of the same name -- their ninth in just over two years, which included two greatest hits packages -- he showed he had the potential to move with the times, but by then so had his teenage audience.
Everyone was a little less innocent.
And innocent pop -- of the finest kind -- was what Gary Lewis and the Playboys delivered. Briefly.
For more one-offs, oddities or songs with an interesting backstory see From the Vaults.