Graham Reid | | <1 min read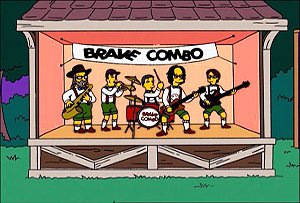 It was a brave combo indeed that took piano accordion polka-rock to the good people of Denton, Texas.
But in the early Eighties this four-piece pulled together ska, Tex-Mex, rock, waltzes, rumba, zydeco and tango (with polka) and delivered their own versions of Hendrix's Purple Haze, Iron Butterfly's Inna Gadda Da Vida and The Twist, Perfidia and some mad originals.
They played in prisons and mental institutions, dance parties and bars, and became so famous they were the band at David Byrne's wedding (he used them in his movie True Stories) and later had an appearance on The Simpsons.
The thing about them was they weren't overtly ironic or musical anachists, they were just a fun party band who were exuberant and could pull a crowd onto a dancefloor.
Their album Music for Squares (1981) was reviewed in Trouser Press, Melody Maker, New York Rocker, Rolling Stone, Oui magazine . . .
Over time they slipped from the spotlight although a version plays on today with accordion player Carl Finch still squeezing out the songs. And on Dylan's Christmas in the Heart album of '09 he sang Must Be Santa and openly acknowledged it was their earlier arrangement he copied.
"You oughta hear their version of Hey Jude," he told Bill Flanagan.
For more oddities, one-offs or songs with an interesting backstory check the massive back-catalogue at From the Vaults.