Graham Reid | | <1 min read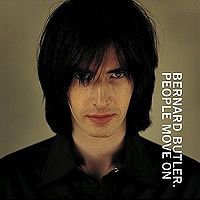 Was it Bob Dylan who said something to the effect, "amateurs borrow, professionals steal"?
Not to encourage plagiarism, but Bernard Butler certainly took a leaf or two -- if not a whole chapter -- from the Book of Fleetwood Mac for this track which uses Albatross as it's starting point -- but then doesn't go too far with it.
This was the opening track on Butler's solo album People Move On after he had first left Suede . . . and then later became McAlmont and Butler (with David McAlmont). Hence the album title.
At almost eight minutes it didn't lack ambition and by twisting the Peter Green/Albatross sound just enough he managed to capture its dreamy mood but also come up with some which is original.
Or something very near original.
For more oddities, one-offs or songs with an interesting backstory use the RSS feed for daily updates, and check the massive back-catalogue at From the Vaults.