Graham Reid | | 4 min read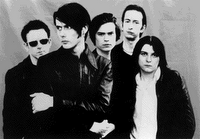 At the going down of the sun we will remember them, those great Britpop bands who were The Next Big Thing – like Longpigs, the Seahorses, Mansun, the Supernaturals . . .

All household names, right?

Yes, it was – and still is -- easy to be cynical about Nineties Britpop, especially from this distance when Oasis and Blur were being set off against each other, and British music magazines would artificially manufacture controversy and give cover stories to bands barely out of the practice room.

From the other side of the world we only accepted the music if it stood up outside of the swaggering interviews (Richard Ashcroft of the Verve), brawling (Liam Gallagher) and alcohol-fueled gigs.

To be fair though, the long-forgotten Shed Seven were thrilling on the night, Elastica were briefly very promising, and the most cruelly ignored in this country was Ocean Colour Scene (who enjoyed the nod from the Modfather Paul Weller) who delivered a couple of thrilling albums at their peak and played one of the most memorable shows I've ever seen. And a sad but memorable interview too.

Much of Britpop was retro (Blur looking back to Barrett-era Pink Floyd then the Kinks, Oasis rejigging the Beatles) and one of the most interesting bands was Suede whose frontman Brett Anderson shared a cover story encounter with his role model David Bowie (they haven't spoken since apparently) and was the previous partner of Elastica's Justine Frishmann who co-founded Suede but split early and moved on to Damon Albarn of Blur. Yes, the Britpop world was that small.

Even before their first major label single, Suede were hailed in 92 by a Melody Maker cover story as "the best new band in Britain" – which is quite something to have to live up to. But – unlike say the Verve – they did.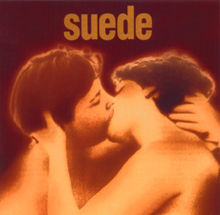 Their self-titled debut album the following year – in a cover with figures of indeterminate gender kissing – had a confidently sexual swagger and for many announced the arrival of Britpop. It was a curious album -- a large dollop of glam/bi-sexual Bowie but also poppy, dark and electrifying at a time when cocky indifference ruled. It opens with the evocative and "because we're young . . . let's chase the dragon", delivered hits singles (The Drowners, Metal Mickey) and dealt with incest/rape, downers and nervous breakdowns. Even now it is quite something.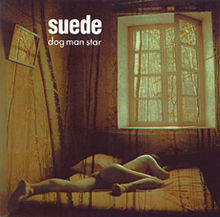 The band however was dogged with problems, notably the sparks between Anderson and guitarist Bernard Butler who quit during the recording of their second album Dog Man Star which also came in a sexually charged cover and was written by a reclusive Anderson while he was heavily into mind altering drugs. The album – experimental, dense, apocalyptic, poetic, camp, dramatic and highly melodic – came embellished by synths, phasing and orchestration, which was deliberate move to by Anderson to separate them from the Britpop of Pulp, Blur and Oasis.
It is undeniably their creative peak, although it wasn't as commercially successful as their debut.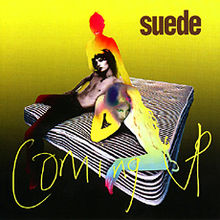 Although Dog Man Star was a highpoint it wasn't exactly all downhill from there: Coming Up (1996) was a seismic shift from dense art music to more pure pop, glam rock and upbeat – and they were rewarded with big sales, critical approval and their second Mercury Prize nomination (they won the award with their debut album).

Head Music (99) and A New Morning (2002) divided critics and by the latter ( a quieter and more introspective album) their momentum had faltered because of Anderson's drug issues and keyboard player Neil Codling quitting. Aside from the excellent, career-closing Singles collection (03) that was it from one of Britain's most interesting bands of the Britpop era. Until of the inevitable reunion two years ago (with Butler, against the odds) – and more importantly the reissue of all these albums and Singles.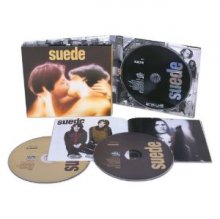 Each remastered original album comes with an extra disc of B sides, live material and rarities, plus a DVD (videos, live shows etc) They are impressive packages, or you can just sample with the double Best Of.

A listen back to Suede in the absence of the cover stories and hype is instructive: they were one of the best bands in Britain on the evidence of their first three albums and that singles collection.

They left the Longpigs, Seahorses and all the others well behind. (Still, Longpigs gave us the great Richard Hawley – but that's another story.)
When it came to Suede, Melody Maker got it right.