Graham Reid | | 1 min read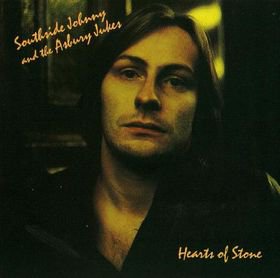 With his big band the Asbury Jukes (a 10-piece), Southside Johnny out of New Jersey could only ever run a distant second to his friend Bruce Springsteen as the Seventies unfurled.
Springsteen had the impetus, the big label, smart management and a kind of destiny -- but they were pals and E Street guitarist Steven Van Zandt was a Juke in '74-'75. Van Zandt produced the first three SJ&AJ albums and wrote material for the band -- as did Springsteen.
Hearts of Stone was penned by Springsteen around the time of his Darkness on the Edge of Town sessions (one of about 60 songs which didn't make the final cut) but even then he knew it wasn't for him and on the tape box he wrote that it could go to SJ.
A great soulful ballad, it is Johnny (John Lyon) at his best.
When the Asbury Jukes kicked up that meltdown of rock'n'roll and soul that was also the hallmark of Springsteen's E Street band they were fine, but still couldn't match the E Street for raw energy. However when it was left to Johnny and a soul ballad it was an unbeatable combination.
This was the title track of their final album for Epic (it also contained the equally fine This Time Baby's Gone For Good written by Van Zandt) and Rolling Stone put it among the top albums of the Seventies and Eighties. So you can imagine the label's frustration that they just couldn't get SJ away with the wider public: the guy had the sound, the songs, the right connections . . .
After this his career got shapeless (disco not the smartest of ideas, despite Nile Rodgers producing) and he was dogged by bad luck (one label went bankrupt as he was touring the comeback album Better Days in the early Nineties).
At 73, he's still out there today -- but his best years were the mid to late Seventies.
And when you hear him on this you speculate on how great he might have been had not his old mate from the bars along the Jersey Shore been hailed as "the future of rock'n'roll" --- for a sound that was, ironically, so grounded in the past.
.
For more one-offs, oddities or songs with an interesting backstory see From the Vaults.