Graham Reid | | 1 min read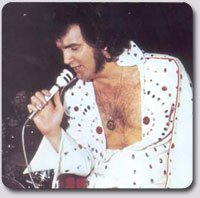 In an alternate lifetime, singer Wade Cummings could have been Elvis Presley, the man he resembled and came to impersonate.
He was born into a poor but musical family in rural Tennessee (his dad a moonshiner) and he was the youngest of nine children. That's the kind of almost mythical backstory we like in our rock stars.
As a kid he saw Elvis on the Ed Sullivan show, joined a band at 13, later hooked up with a showband and covered songs by Gary Puckett, Gene Pitney, Tom Jones, Roy Orbison and . . . Elvis.
The story is that Elvis actually attended an Elvis Wade show and stood up and applauded at the end. When Presley died in '77, Wade had already recorded an album of original songs (only two by hm) which had been written in the late-period Presley style.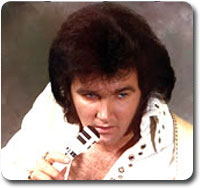 On the cover (left) he was a dead-ringer for the late King. Most of the songs were written by a team which included Alan Cartee, and Ava and Roy Aldridge. Ava had co-written Sharing the Night Together with Edie Struzick (which Wade covers) which was a hit for Dr Hook in '79. She was a well known backing singer and appears on the album too.
Most of the songs -- especially Country Woman (a sort of clean version of Son of Hickory Holler's Tramp) and the Las Vegas shaker Professional Lovemaker -- are of the kind Elvis might have sung.
In '84 Dee Presley (the second wife of Elvis' dad Vernon) contacted Wade to join a tribute to Elvis tour and two years later he was out with the Jordanaires at their invitation, a gig which lasted 12 years.
In an interesting footnote here too: Elvis Wade married the singer Sandy (Single Girl) Posey in 1968 . . . and rather hilariously, a Canadian rock band wrote a song in "tribute" to Elvis Wade (here).
For more one-off or unusual songs with an interesting backstory see From the Vaults.