Graham Reid | | 1 min read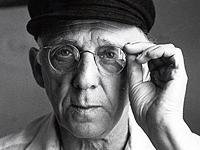 The Scottish poet and comedian Ivor Cutler (1923 - 2006) barely scraped the surface of wide public acclaim outside of the UK, and even there he was a minority figure. But he did appear in the Beatles' Magical Mystery Tour in '67 after Paul McCartney spotted the eccentric, quietly spoken Cutler on a late night television show.
In that Beatles film he played Buster Bloodvessel, the driver of the Tour bus who takes a shine to Ringo's Aunty Jessie.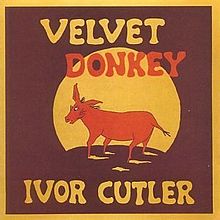 He was a favourite of John Peel who played him on his radio shows, appeared on a couple of tracks on Robert Wyatt's Rock Bottom album ('74) singing and playing harmonium, and subsequently recorded three albums for Virgin in the mid Seventies -- and these two pieces come from one of them, the Velvet Donkey album.
The surface noise and pops add a certain feel of antiquity I think.
Life in a Scotch Living Room was one of a series of autobiographical pieces, and Go And Sit Upon The Grass so appealed to Wyatt that he later covered it.
Cutler was born in Glasgow, spent a brief period as a teacher in London (music and poetry to pre-teens) and appeared on BBC radio reading his poems and spoken word pieces, often accompanying himself of harmonium or piano.
His pieces are often very funny but also quite dark -- as in the case of Life in a Scotch Sitting Room (which was expanded into a whole series of pieces). He was also enormously prolific: he wrote numerous books of poetry and stories for children in addition to recording more than a dozen albums.
He may have been a cult figure, but his audience grew and stretched over successive generations and when he died at age 83 there was an obituary in The Times which noted that when told he didn't have long to live said, "When I do die I shall be glad to get away from loud pop music and motor cars, but I shall miss, insofar as when one is dead one can miss anything, the beautiful kindnesses of those people to whom courtesy comes naturally."
For more one-off or unusual songs with an interesting backstory see From the Vaults.