Graham Reid | | 1 min read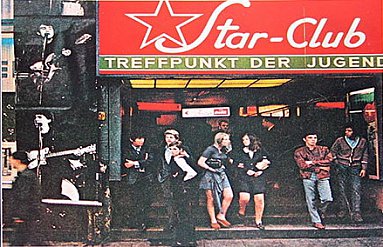 In 1977, after years of rumours about it and litigation, the album The Beatles: Live! at the Star Club in Hamburg, Germany; 1962 appeared. For those -- like John Lennon, ironically -- who believed the Beatles were a better rock band before their manager Brian Epstein put them in suits in Liverpool, here would be the evidence of them at their most raw.
The background to these rough recordings was as follows: Ted "Kingsize" Taylor and the Dominoes were among the many groups from Liverpool which also played the Hamburg clubs and one night Ted asked the club's stage manager Adrian Barber to record a Beatles set on a simple reel-to-reel tape recorder using a single microphone.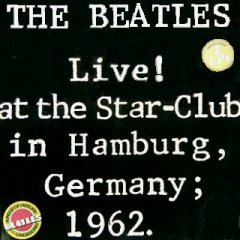 Ringo had replace Pete Best in August, just in time to record the Beatles' first sessions for Parlophone with George Martin -- and at this time they were having minor success in Britain with Love Me Do.
Taylor offered the tapes to Epstein who declined thinking they were of no value, the tapes languished for a decade then were discovered by Allan Williams (the Beatles first manager) who offered them to Apple which also declined, it was in such financial turmoil.
Williams had the tape cleaned up and an album was releasd in Germany in late '72 -- and the Beatles sued, but lost their case.
Since then the tapes have appeared an re-appeared in different versions (33 songs were originally recorded, 26 appeared on the Williams album) and on various labels.
No one would claim these recordings are of anything other than historical interest -- the quality is poor, as you might expect -- and there is an argument that the band were even more raw and raucous in their previous Hamburg stints because at this time they were more keen to be in the UK capitalising on their early succes.
But here it is, the Beatles before Beatlemania, live in a bar in Hamburg.
For more on the Beatles in Hamburg go here and here and here and here.
For more one-off or unusual songs with an interesting backstory see From the Vaults.