Graham Reid | | 1 min read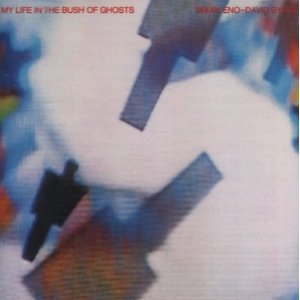 When the Brian Eno and David Byrne album My Life in the Bush of Ghosts appeared in 1981, the musical, social and cultural climate was very different. Hip-hop had yet to establish the widespread use of sampling (although of course there had been artists who had used the technique), and the idea of a beat-driven album by two intellectual boffins was something unfamiliar also.
But on Bush/Ghosts, Eno and Byrne pulled together samples of voices and singers from radio and other records, and -- with a predominantly percussion-based group of players, Bill Laswell on bass, plus synths and guitars -- delivered a collection of pieces which you could listen to, or dance along with.
And three decades on the album and the concept still holds up.
This track -- typical in some ways -- uses the voice of an unidentified exorcist recorded the previous year.
When the album was given CD reissue in the late Eighties and again in 2006 however -- in '06 with many additional tracks -- what was most noticed was what hadn't been included: the track Qu'ran which opened the second side.
Times had changed and what passed unnoticed in '81 was now sensitive stuff because it contained a sample of Algerian Muslims chanting the Qu'ran (Koran). It had been removed so as not to give offence. Curiously enough the sample had come from an earlier album The Human Voice in the World of Islam from '76 which seems not to have had any problems.
If you wish to hear the Eno-Byrne track Qu'ran it is here:
Qu'ran
If you feel you may take offence then don't listen.
You can still enjoy the sound of an exorcism with a relentless killer groove.
For more one-offs, songs with an interesting backstory or oddities check the (almost) daily updates at From the Vaults.