Graham Reid | | 1 min read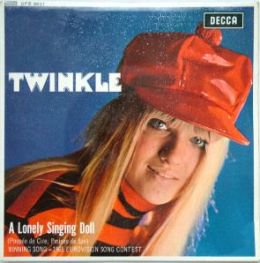 There's quite a tradition of death ballads in rock -- Pearl Jam tapped into it when they covered Last Kiss which had been recorded to no great public interest by Wayne Cochran in '61. Perhaps the greatest of them all was Leader of the Pack ("look out look out look out!") by the Shangri-Las in '64.
Coincidentally at exactly the same time as the Shangri-Las were topping the US charts with their song about a guy who rode his motorbike into the night (and oblivion), so too was Lynn Annette Ripley (aka Twinkle) out of Surbiton, England going top five in the UK with Terry which she wrote herself when she was 14.
She was 16 when the song charted (Jimmy Page was one of the session musicians) and was having dinner with singer Clodagh Rogers when her manager told her she was in the charts.
"Because I had bags of confidence," she said later, "I would have been shocked if it hadn't been a hit."
She was on Top of the Pops, her first live gig as Twinkle with Terry found her opening for Jerry Lee Lewis, and her second was with the Stones (she toured Ireland with them). She got to pal around with Herman (of the Hermits) and Rod Stewart and . . . .
And that was it for her.
Her subsequent single Golden Lights didn't crack the top 20 (the Smiths later covered it) and although she continued to record she was effectively out of the business by 18.
She has more recently sung on various oldies shows (she did a show with Cynthia Lennon, who somewhat improbably recorded the Mary Hopkins' hit Those Were the Days b/w Walking in the Rain in the mid Nineties, to no effect) but admits she hasn't been interested in the pop world for decades.
Hers was a short time in the spotlight, but she left a great death ballad.
For more one-offs, oddities or songs with an interesting backstory check the daily postings From the Vaults.