Graham Reid | | <1 min read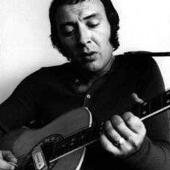 The Hungarian guitarist Gabor Szabo -- often described as a gypsy musician -- was a sophisticated player and composer, as witnessed by those who had success covering his material, not the least Carlos Santana who picked up Szabo's Gypsy Queen.
Szabo studied at Berklee in Boston, played at Newport and in the early Sixties was in Chico Hamilton's group. He was named best new guitarist by Down Beat in '64, toured with Charles Lloyd, lead his own group in the late Sixties and incorporated elements of rock, blues and Eastern music alongside the folk influences he grew up with.
His group First Circle was in the vanguard of fusion. He died while back in Hungary in 1982 and had spent much of the Seventies as a studio musician in television in the States.
Perhaps that low profile in his last decade-plus explains why he has slipped below the consciousness of many jazz listeners.
Yet his sound lives on, but not in a way that he would especially enjoy. In fact he was livid when George Benson adopted wholesale his style and arrangement of Bobby Womack's Breezin' and took it to the charts in '76 . . . seven years after Szabo had recorded it for his High Contrast album (with Womack on guitar, bassist Phil Upchurch, drummer Jim Keltner and others).
So here for you is the original version of Breezin' . . . as played by a master guitarist that no one even talks about anymore.
For more oddities, one-offs or songs with an interesting backstory stay tuned to From the Vaults.