Graham Reid | | <1 min read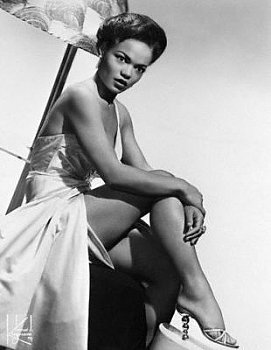 She might not have been the best Catwoman* because she was a little past her best, but the great Eartha Kitt straddled sultry pop, blues-noir and cabaret. She was also in a Faust film by Orson Welles (playing Helen of Troy), her suggestive Santa Baby became a classic (and was covered by Madonna) and in this dramatic track she imagines white powder in his drink as she, a jealous woman, prepares to poison her cheating man.
As she sings, "We're in a world of love and hate".
Written in part by Leo Ferre, this tense slice of pop-noir is delivered with quivering urgency by the great Kitt whose career spanned cabaret to disco, Broadway to The Simpsons.
They don't make 'em like Kitt any more, and they don't write 'em like this either.
*Best Catwoman was Kitt's predecessor in the Batman television series Julie Newmar, right? Here with Chad and Jeremy doing something like a Beatles press conference.
For more oddities, one-offs or songs with an interesting backstory use the RSS feed for daily updates, and check the massive back-catalogue at From the Vaults.