Graham Reid | | <1 min read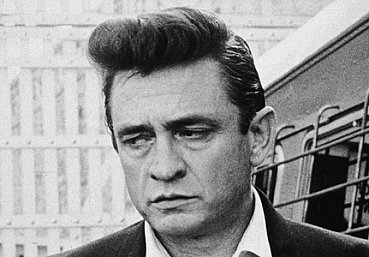 Fortunately for Johnny Cash he didn't die around the time he hit rock bottom in the mid Eighties. If he'd gone then -- before his career resurrection through the American Recordings and the Walk the Line film -- he might not have been remembered as the man-mountain solid rock of country, the troubled man of faith or the middle-finger rabble-rousing guy of that famous photo.
Imagine if The Chicken in Black had been his last recorded outing. We would think of Cash as the Man in Black who ended up addled and singing novelty songs.
This one - among the last before his label Columbia finally let his contract lapse after 28 years -- finds him at a nadir, and although in hindsight we might charitably say he was at least poking fun at himself there really isn't much else to redeem it.
From the Man in Black to the Manhattan Flash and a video clip with a Cash-singing chicken is a long way to fall. As the song said, you had the sense that his body had outlived his brain.
I couldn't find a recording of the song, but the clip says it all anyway. Too much perhaps.
For more oddities, one-offs or songs with an interesting backstory use the RSS feed for daily updates, and check the massive back-catalogue at From the Vaults.