Graham Reid | | <1 min read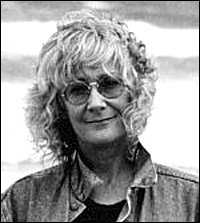 Today -- Friday July 22, 2011 -- being New Zeaand National Poetry Day it seems only right we should acknowledge it.
It would be easy to go to the collection Contemporary New Zealand Poets in Performance for some Very Serious Poetics or link back to our particular favourite Selina Tusitala Marsh, but this being Elsewhere -- the place where music is important -- this one by Cilla McQueen seems more apt.
Written in '93 but set to music for her album Wind Harp in 2006 it is an effortless and amusing amalgam of Kiwi idiom and Fifties doo-wop pop.
And it's just kinda fun, but serious about innocent love.
For more oddities, one-offs or songs with an interesting backstory use the RSS feed for daily updates, and check the massive back-catalogue at From the Vaults.