Graham Reid | | 1 min read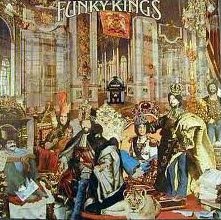 So just how pervasive was Bruce Springsteen's influence? One listen to this track by the short-lived Funky Kings from LA would suggest that even by his second album he'd managed to infiltrate the consciousness of these guys.
Well, maybe.
But the Funky Kings, who only lasted one album, were a supergroup in reverse. Just about all of them went on to other things, or had come from some pretty creditable work on this album produced by Paul Rothchild (who was at the desk for the Doors).
In their ranks were songwriter Jack Tempchin whose Peaceful Easy Feeling and Already Gone had been hits for the Eagles and who later worked with Eagle Glenn Frey, the much under-rated Jules Shear who went on to Jules and the Polar Bears and then a fine solo career, and Richard Stekol who had been in the band Honk which toured with the Beach Boys and Jackson Browne.
The Funky Kings were primed by Arista boss Clive Davis to follow in the wake of the Eagles, but when their debut flopped it was all over for them.
Pity. In addition to having fine songwriters in their ranks (Shears' ballad So Easy to Begin is a standout) they also had pedal steel player and dobro player Greg Leisz who would go on to play on albums by Aaron Neville, Buddy Miller, Carrie Rodriguez, Emmylou Harris and others.
Oh, and the bassist was Bill Bodine who has been on sessions and albums with Joan Armatrading, Van Morrison, Cher and dozens of others as well as being a much sought after producer.
So despite the Springsteen influence all over Singing in the Streets (and slightly tongue in cheek you supect) which opened their album, the Funky Kings had a whole lot more going for them.
Just not at that time.
Probably the name, huh?
For more oddities, one-offs or songs with a back-story check From the Vaults.